Juan Medina: From the grounds up - reaping the benefits of the coffee bean
Imagine a list of the top coffee drinking countries and you can be sure that the Nordic countries would be in the Premier League. Consider a similar table of countries most concerned with waste recycling in a circular economy and you find a similar result. Not surprising then that a team of young Colombians with an idea for using spent coffee grains should chose the Danish capital Copenhagen as a base for their entrepreneurial venture. 'Kaffe Bueno' is based in the heart of the city. Two factors played an important role in the thinking behind the new company. Firstly, the team knew coffee growers back home were struggling to get fair prices for their product. Secondly, they knew that waste products were simple 'resources in the wrong hands and spent coffee grounds was not the exception. They were determined to find ways to resolve this unlikely combination.
---

By Myriam Chilvers, Nordregio
The story
"Growing up in Colombia you quickly learn that coffee is not just for drinking". As a young child Juan Medina, now 27 years old, would go to his grandmother to have coffee bean extracts rubbed into his cuts and grazes or use coffee itself to taint her grey hair. If his mother had been prepared to share the secrets of her anti-ageing face mask, he would have discovered that too was based on discarded coffee grounds.
Some years later Juan found himself in London studying business and finance and thinking about how he might make his way in the world. He and his two Colombian friends, Alejandro Franco and Camilo Fernandez, whom he coincidentally met in London for the first time even though they had grown up in the same Colombian town of Barranquilla, met up with young Scandinavians who were also studying in London. Naturally they spent a lot of time drinking coffee. A shared passion as the world's top coffee drinkers meet with up with young men from the world's third largest coffee producer.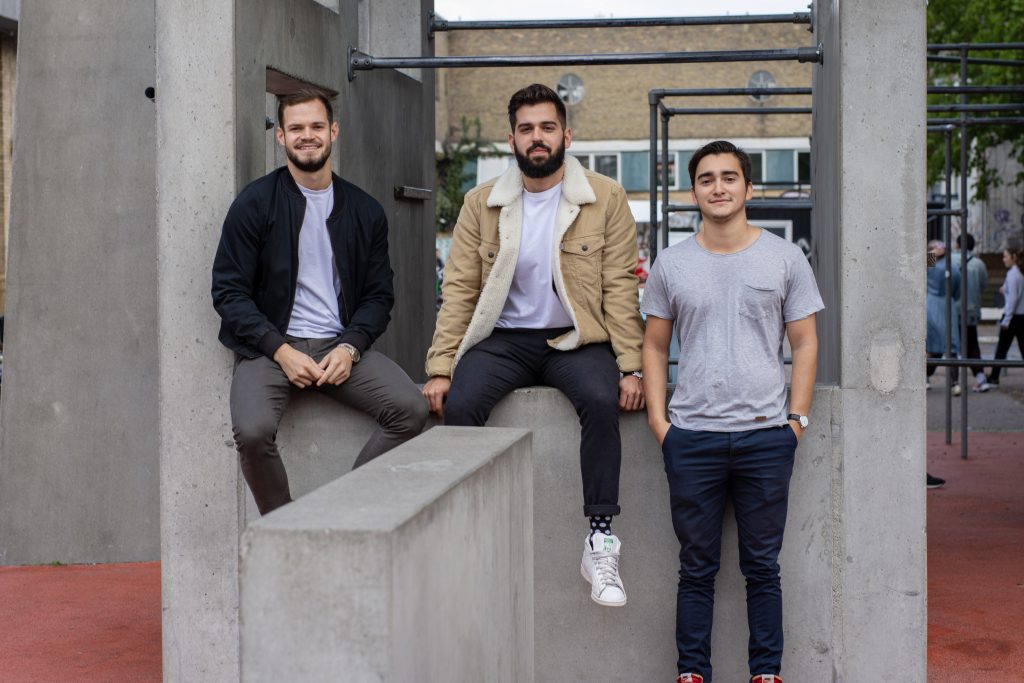 Juan Medina was more interested in the coffee grounds than the coffee itself. After all, when you brew a cup of coffee, less than 1% of coffee's health-enhancing compounds are utilised. How could he use this waste product? Juan began to think of ways to put those discarded beans to good use.
The range of products on the 'Kaffe Bueno' website pays tribute to those brainstorming sessions in London. From coffee oil-rich in linoleic acid, polyphenols and diterpene esters - efficient for skin care, ageing treatments, wound-healing and anti-cellulite formulation to naturally gluten free flour low in fat, rich in proteins, insoluble dietary fibres. Coffee grounds if correctly treated can offer commercially successful products.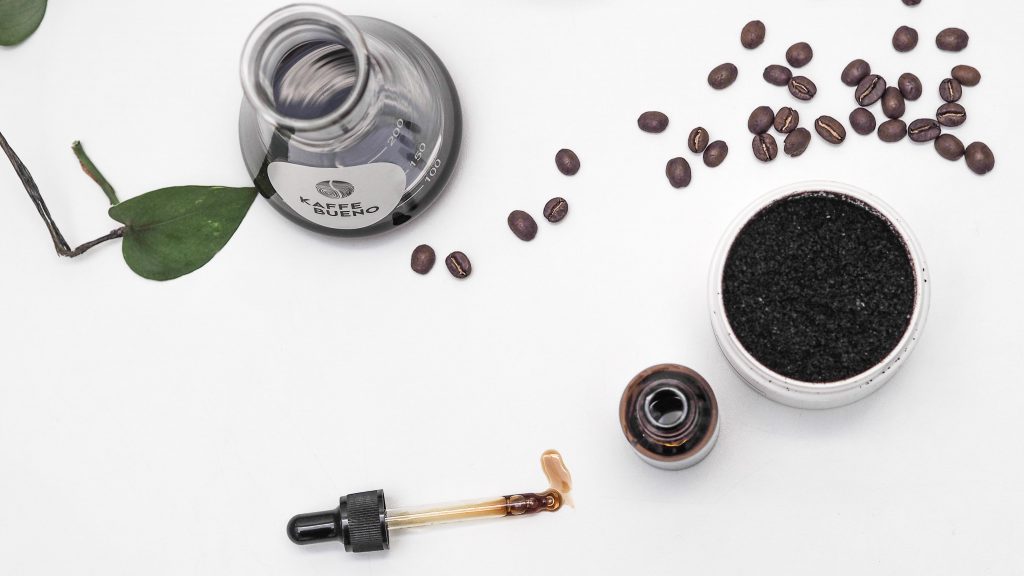 The journey
The journey started as a physical change of abode for the young Colombians. Their Scandinavian friends had recommended Denmark as a country that might welcome their ideas. But before they could even embark on their journey they needed a visa to stay in Europe and thanks to the Startup Denmark programme and an initial business plan simply to make a living from something which would meet their insistence on sustainability, they got their visas and moved to Copenhagen.
With no knowledge of their adopted country nor its language and a social network limited to the few friends they had met in London Juan and his associates began to execute their business plan. Initially, to earn themselves a living, they started by selling Colombian coffee sourced from a collective of women farmers from their area to their adopted city's omni-present coffee houses (b2b, mostly to offices and cafes).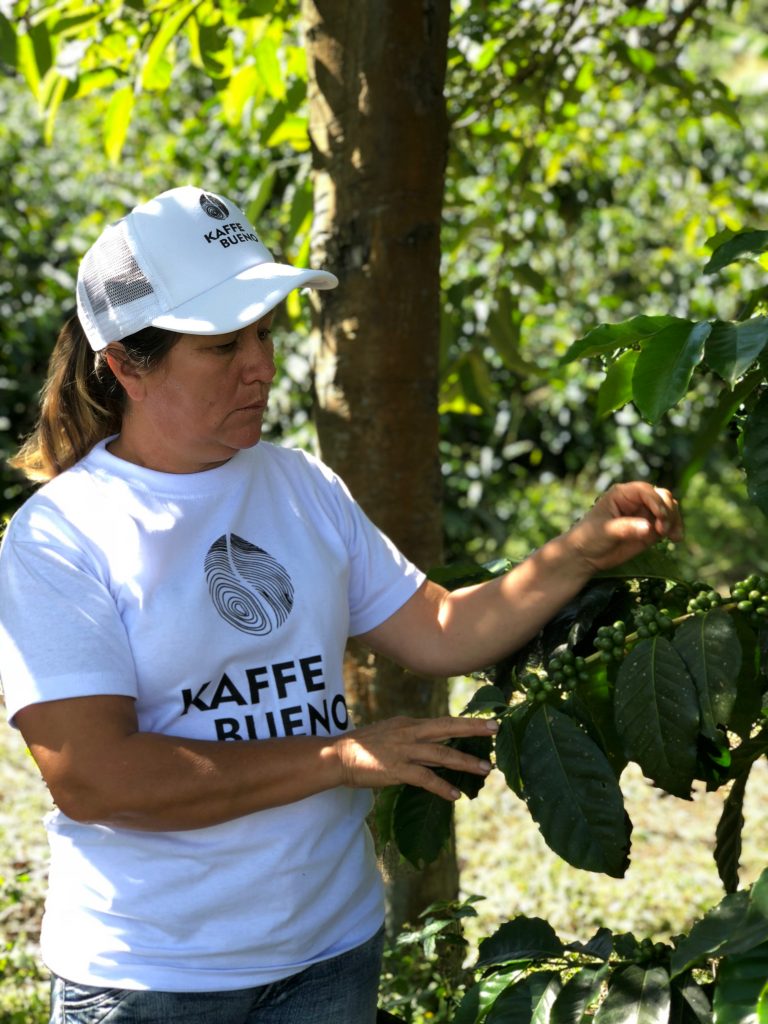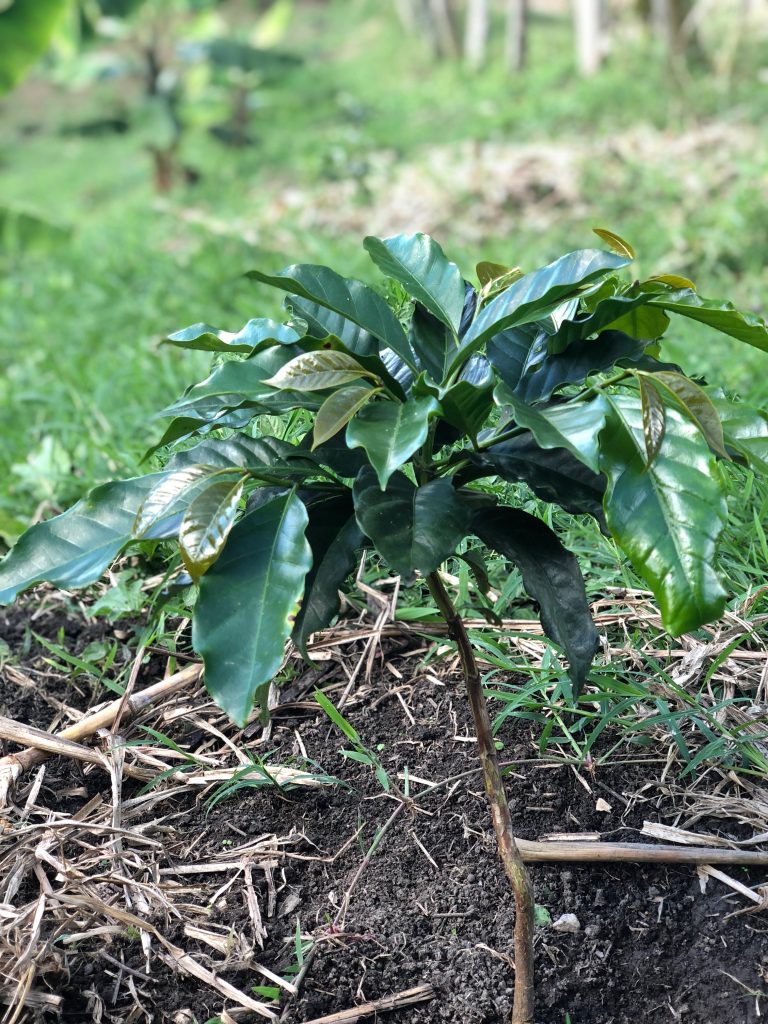 2017 and its prior year was a time of crisis in Colombia for its coffee growers and that fact drove them to push their national product. But they knew they couldn't save an industry that was facing severe international competition by only selling coffee as rather they needed to innovate and find new ways to use it beyond a delicious beverage. Rethink the concept of coffee company in the 21st century.
Initially while in London, they thought of opening their own coffee house in which they could recycle the spent coffee grounds (SCG). A good idea but it would require a lot of capital if they wanted eventually to expand and making it difficult to scale. They promptly realize they could make use of the coffee grounds that they knew were being thrown away from every café, bar and hotel in the city every day and process it in a novel biorefinery.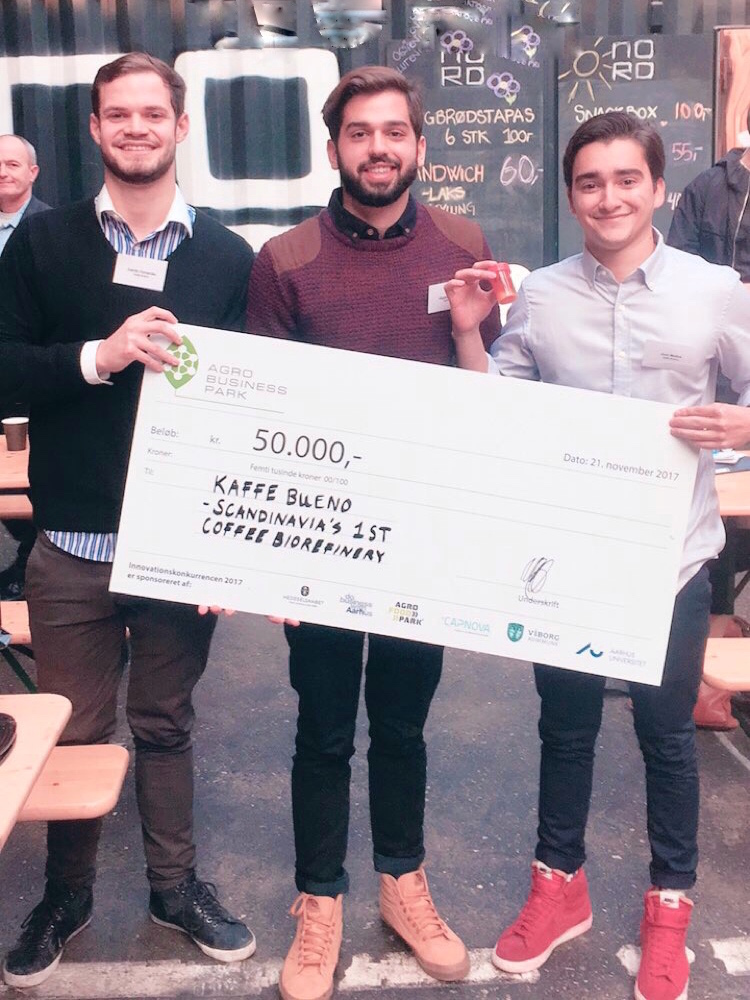 Then in 2017 the company received a grant from the Innovationsfonden to collaborate with DTI (Dansk Teknologisk Institute) through its Innobooster scheme. The programme invests in promising ideas from small and medium-sized companies and start-ups. This gave them the funding to test their 'Kaffe Bueno' Oil in different cosmetic applications and scale up their technology from lab to pilot/industrial scale needed to extract the goodness from the spent coffee beans.
The process adopted by 'Kaffe Bueno' is simple, efficient and pleasingly in line with the circular economy. Like all neat systems it is best summarised by their website diagram.
The environment
So how does recycling coffee grounds impact on the environment? The 'Kaffe Bueno' website has some surprising figures. "The yearly environmental impact of coffee waste decomposition is equivalent to 9 million car emissions." Methane, the gas which it produces if not properly treated is 86 times more harmful than CO2.
The story gets worse. Many otherwise environmentally conscious people use their grounds as a garden fertiliser. But… "The high presence of organic material makes the decomposition process of the SCG (spent coffee grounds) highly pollutant since it requires important volumes of oxygen and releases methane into the atmosphere."
For every tonne of coffee grounds recycled, we avoid the emissions of 340m3 of methane into the atmosphere. Within the next 5 years, we are planning to recycle 1600 tonnes of coffee yearly, which is equivalent to 3 million average car emissions per year.

Health benefits
The health benefits of coffee grounds go beyond the beverage. Its oil fraction can be applied to the skin it has been shown to protect against damaging UV rays, boost blood microcirculation and fight against inflammation. It can be used as an anti-ageing agent and help fight premature hair loss.
As a consumable besides the well-documented effects of caffeine to enhance concentration and alertness it has been shown that "Chlorogenic, caffeic acid, among other compounds- which are found in caffeinated and in decaffeinated coffee - are likely to reduce the risk of type II diabetes among other chronic diseases".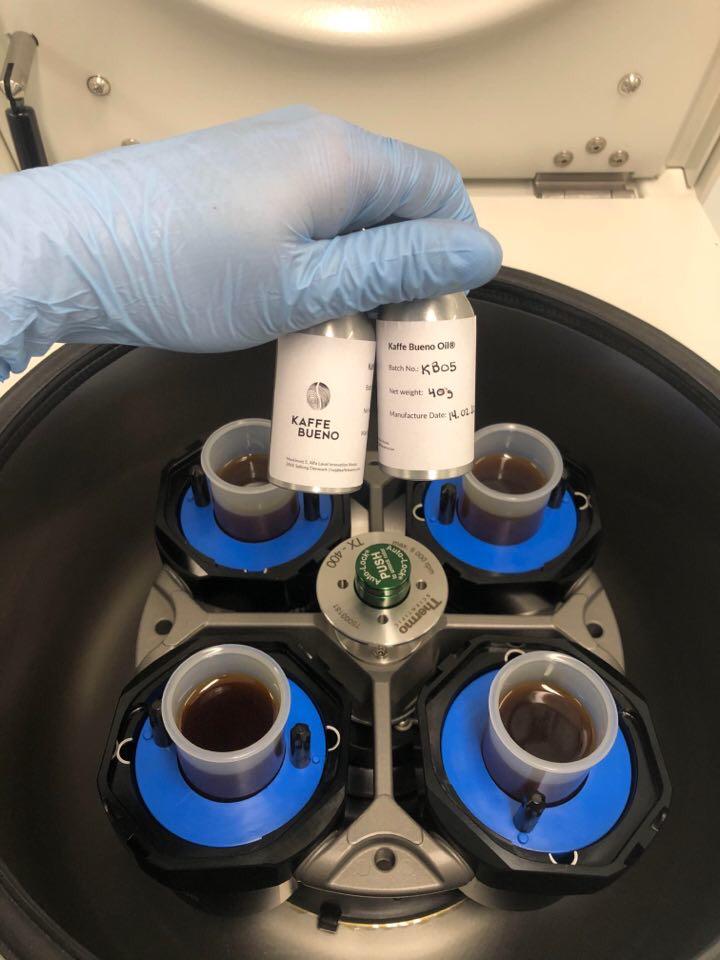 Investment and support
The bio economy is not short of ideas but investors have often been put off by the low returns. What is changing now is the fact that consumer pressure is forcing entrepreneurs to look beyond the short term balance sheets. This bottom- up pressure backed by Danish and international initiatives is helping to make the circular economy far more attractive.
In December 2019 the company received a major boost when the The Miljøstyrelsen (Danish Environmental Protection Agency) award them a grant for a joint collaboration grant of 2.2 million DKK with DTI. The project under the name INFUSE is designed to, "unlock coffee's health and commercial potential. DTI's (Dansk Teknologisk Institute) capabilities and technologies combined with 'Kaffe Bueno's' knowledge and vision is the success recipe for this project that aims to accelerate the development of health-promoting ingredients derived from spent coffee grounds."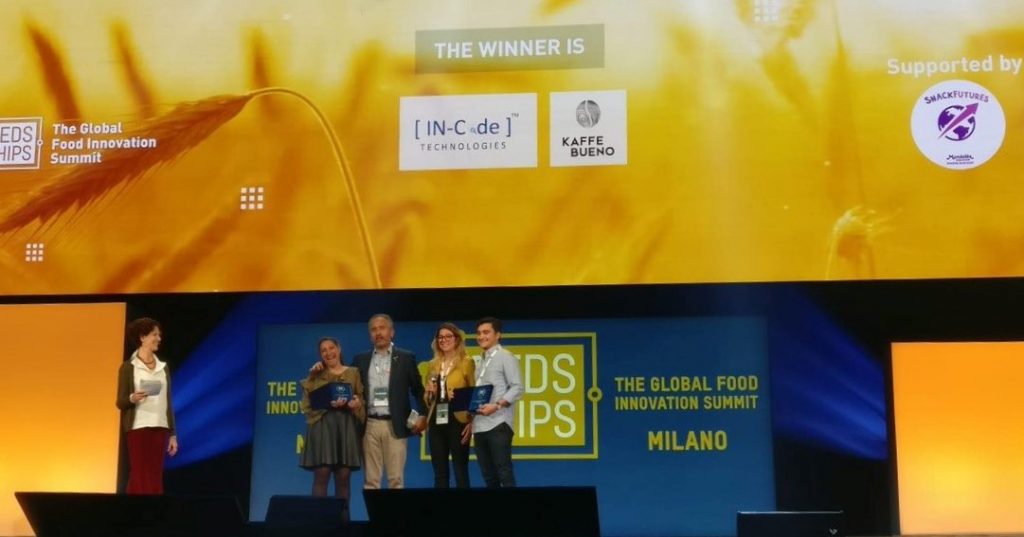 In December 2019 The European Green Deal was launched. This roadmap for "making the EU's economy sustainable" aims to do so "by turning climate and environmental challenges into opportunities across all policy areas and making the transition just and inclusive for all".
Wider aims
The three young Colombians who founded the company while ever grateful for the welcome and support Denmark has given them have not lost sight of the people in their native country who make their business possible. The crisis in the industry is being felt particularly badly in Colombia where small scale farmers are facing a 30% – 40% cut in the price of coffee at the very time that production costs are soaring.
"By extending coffee's economical life, we will be able to give something back to the people to whom we owe its existence; the farmers, ideally in the form of education or technology projects in the future." Juan insists.
That vision will require people "to change the way they perceive coffee; from looking at it as their caffeine fix, to look at it as a sustainable health elixir." That vision has kept the team going along their journey which Juan adds "has taken them in some unexpected but exciting directions."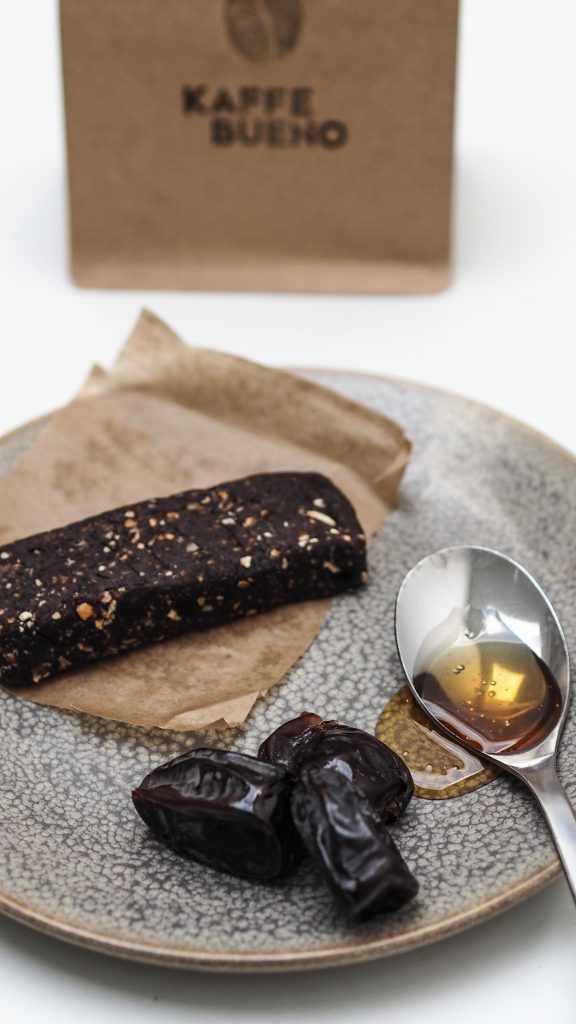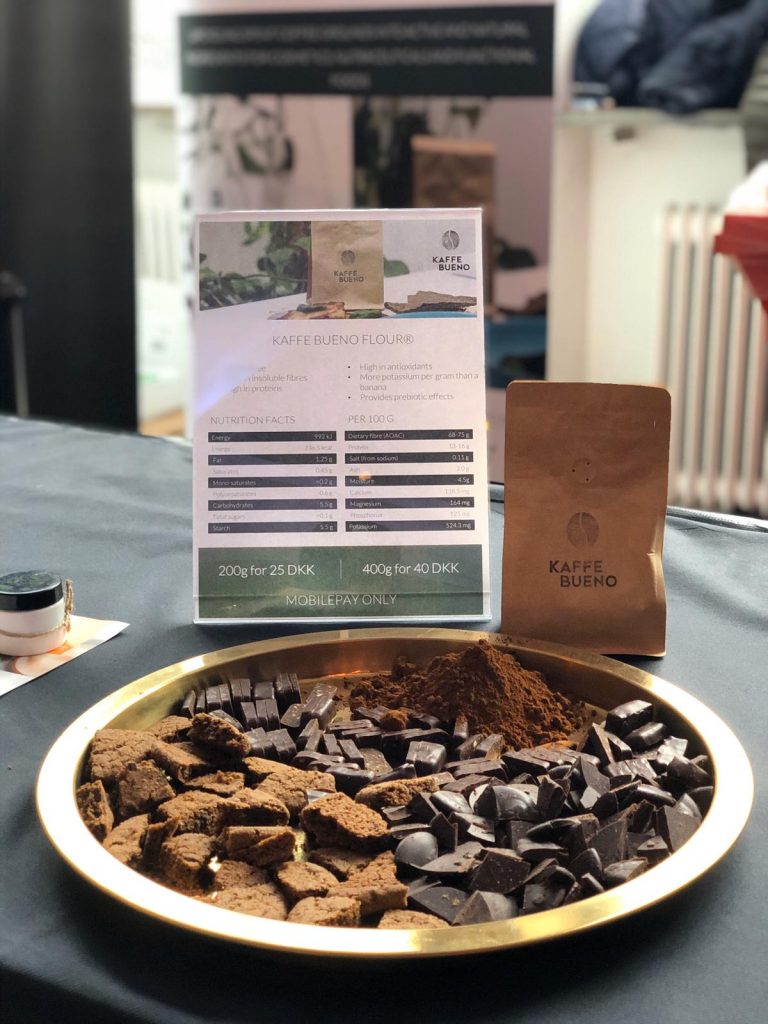 Photos: 'Kaffe Bueno' archive.