Nadine Sydow: 'slugs-are-gone' invention - an ecological 'repellent' for slugs and snails
Nadine Sydow's unique invention, 'Schnexagon', or 'slugs-are-gone' in English, is a product to stop slugs and snails from climbing into slot gardens while protecting biodiversity. In Nadine's words "it's transparent – you can't see it and can't smell it – the slugs don't die; they simply can´t stick to it". Nadine, who is based in Kiel in Northern Germany, has a passion for developing new materials that can provide more sustainable solutions to existing products.
---

By Alicia Eggers & Alberto Giacometti, Nordregio
Background
'Schnexagon' is an ecological alternative to chemical pesticides and works like a paintable protective fence against slugs. The product is applied directly onto vertical surfaces using a regular paintbrush. A natural combination of natural oils and surfactants prevents slugs from sticking onto the surface and they simply fall off. This way, slugs survive, and biodiversity is protected. The main target group are private gardeners - people who put a lot of love into their plants and vegetable plots, using the product to avoid slugs destroying their plants.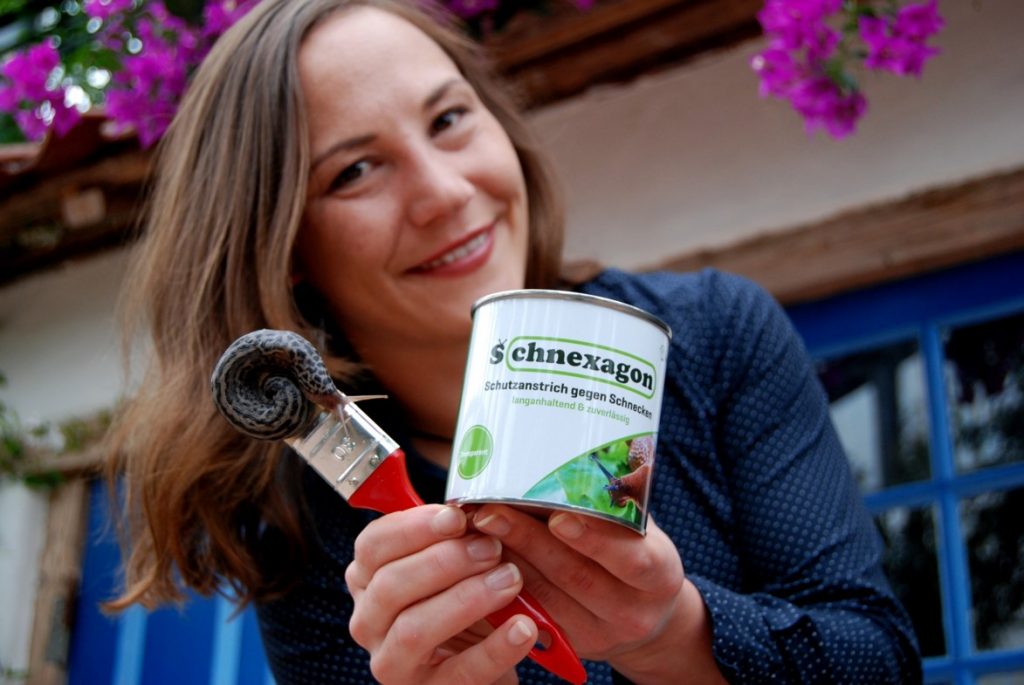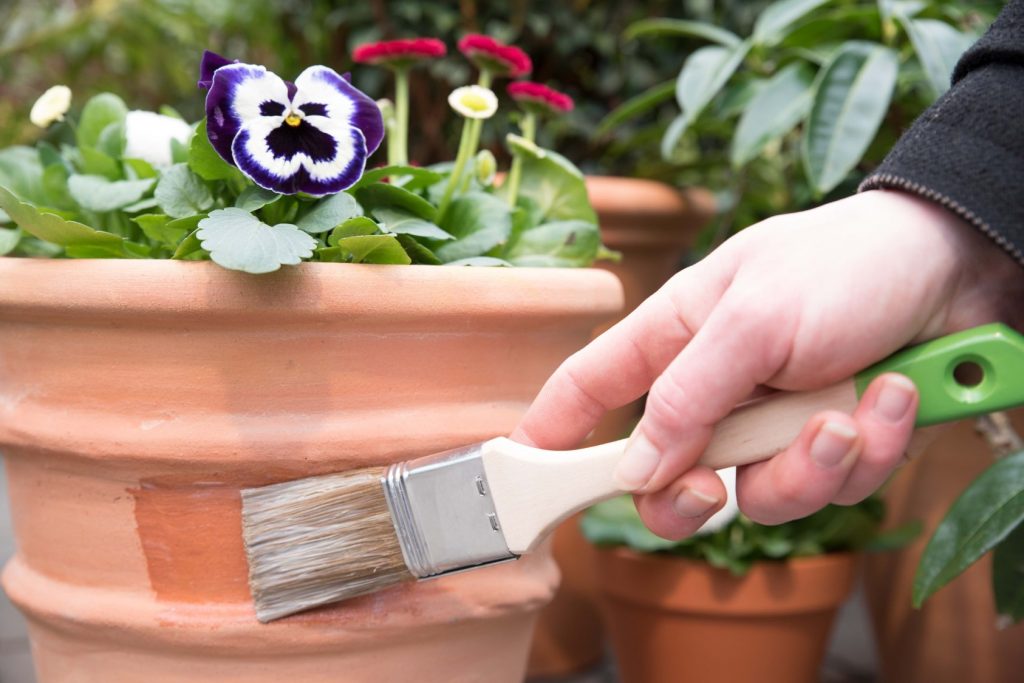 Today, the product is mainly marketed in Europe, but Nadine is hoping to expand to other countries where problems with slugs are recurrent. With climatic shifts, slugs, and particularly invasive species are moving into new regions, for instance northern Europe.
Despite winning a pitch competition for start-up companies, pulling off this niche business idea proved to be a big challenge. Yet, against all odds, Nadine's persistency finally paid off when she met her current business partner, who supported her idea. Together they founded the company Solvoluta and patented 'Schnexagon'. Today the product is sold in various market-leading 'do-it-yourself' (DIY) stores in 5 different European countries.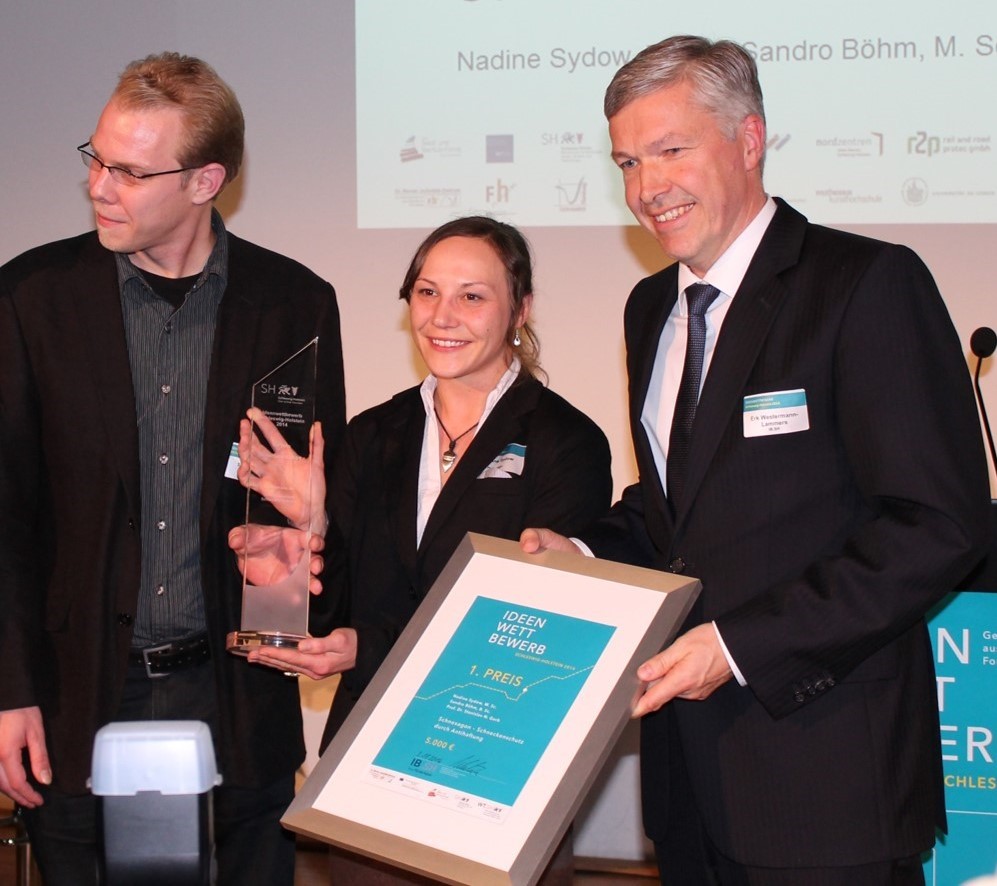 Ecological impact
When spreading poison against slugs, we are altering ecosystems balance. Yet, slugs are an important part of our ecosystem. They eat vegetables, fruits and other plants and produce nutrient-rich compost, which is then used by animals and plants. With the arrival of the so-called 'Spanish snail" to northern Europe, many have increased the use of poison to combat the invasion. Being new to the ecosystem, the Spanish snail does not have a natural predator, and thus proliferates more rapidly. However, by adding poison we are affecting the native slugs disproportionally, while the Spanish snail prevails. Using 'Schnexagon', instead, can help protect native slugs and the balance of the ecosystem.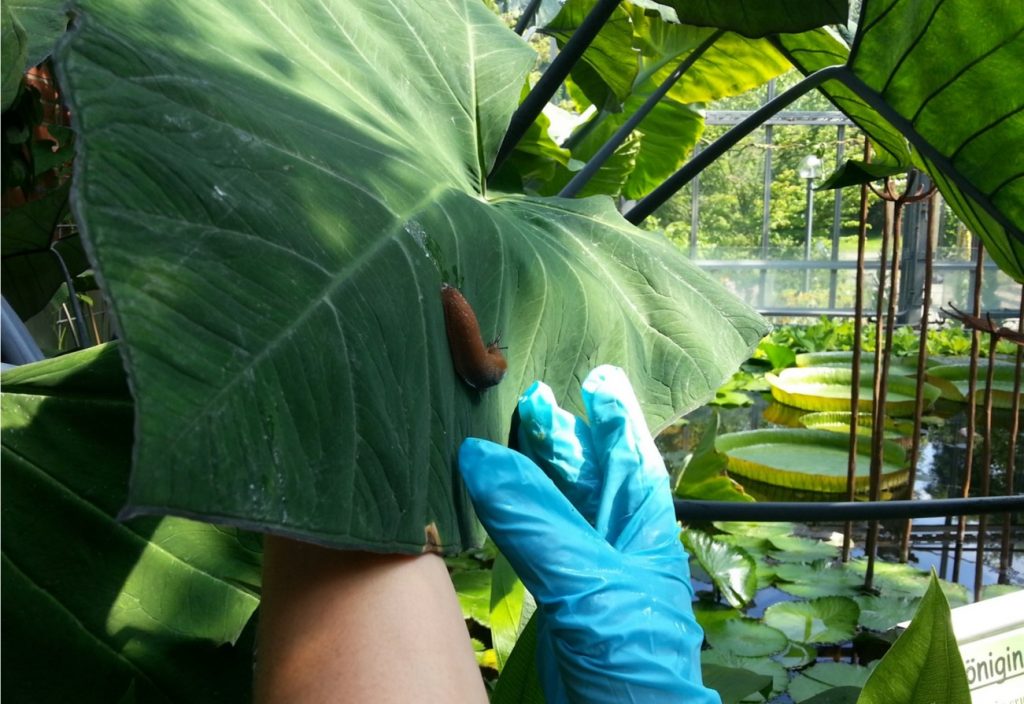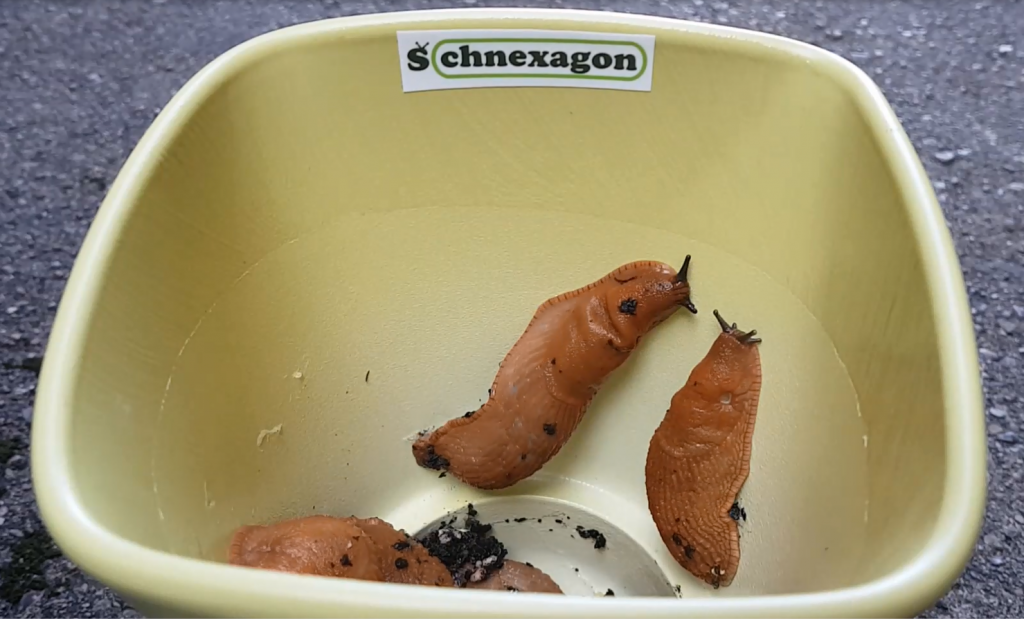 Journey
After receiving her master's degree in biology at the University of Kiel (CAU), Nadine was contemplating her future options. Lab work with no practical application did not appeal to Nadine at all. She then joined the working group on "Functional Morphology and Biomechanics" at CAU. At that time, researchers had developed a tape that mimics a gecko´s adhesive foot structure which sticks to surfaces just due to physics. When travelling to Thailand, Nadine saw the potential of marketing a related product, aiming to prevent a gecko´s attachment for certain areas. However, getting rid of slugs appeared to be a much more relevant local problem. That day the story of 'Schnexagon', or "Slugsaregone" began.
Nadine tested over 400 materials trying to find something that slugs would slip from, but in her words: "slugs stick to everything". About to give up, Nadine and an Israeli guest student randomly figured out that the combination of gypsum and soap was the first successful step towards a magic recipe.
After winning the first prize at an idea competition, Nadine was eventually taken seriously and was able to promote her idea within her expanding network. Still, funding remained a major challenge. Therefore, Nadine came to the idea of using crowdfunding. "This required a lot of work and promotion, and I was able to collect 18.000 euros, which was still not enough to found a company".
Finding her "business angel", with the aid of the Northern German Startup community, Nadine was finally able to take the next steps and scale up. In 2016, after 2 years of intense work and overcoming all the challenges, 'Schnexagon' was available on the market and sold in hundreds of DIY stores.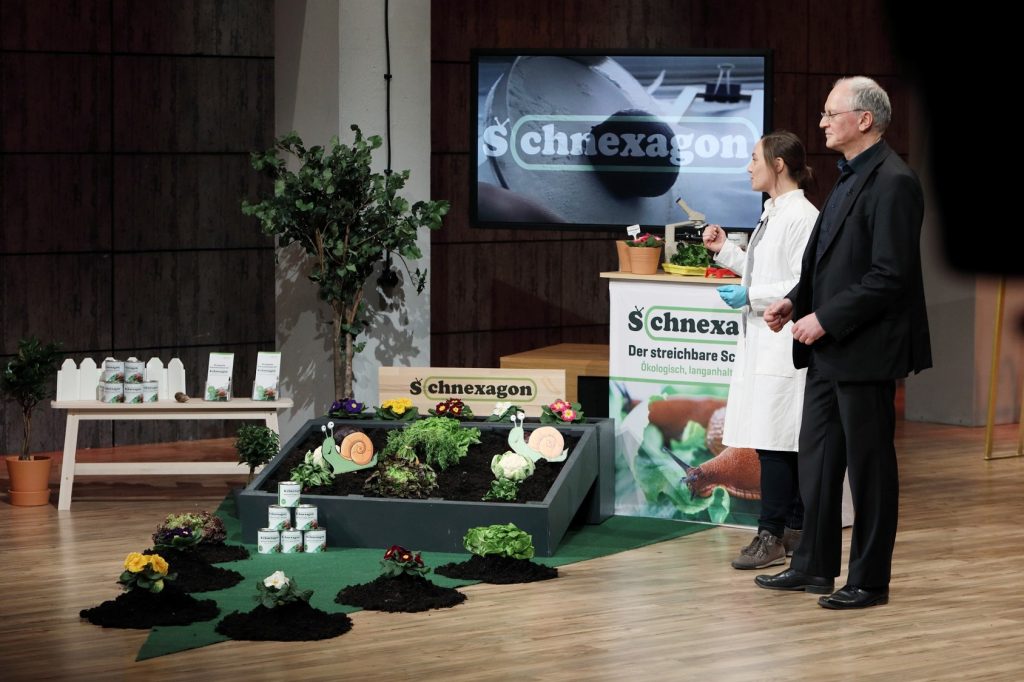 As a side-effect of the crowdfunding and the successful market entry, Nadine was invited to present her idea at a German TV show in Cologne, where investors make proposals 'on-live'. She was offered a deal of 500.000 Euros for 30% of the company's shares, a proposal that seemed too tempting not to take. Yet, after negotiations with her distribution partners, she refused the deal, and instead, she sealed a sales deal. This was a smart move according to Nadine. "We were able to keep all shares of the company, and got a lot of marketing and an exclusive teleshopping opportunity from the show".
Challenges
Pulling off such an original business idea proved to be rather challenging. Before the business finally kicked off, Nadine and her business partner had to go a long way convincing people before receiving any funding. Also, most people would not really care or be aware of the relevance of slugs in nature, so keeping them alive may not be their top priority. Also, slugs are getting rarer in Germany due to dryness related to climate change, influencing the demand for her product. Still, as the climate zones are shifting, other markets may open up in countries with a more humid climate.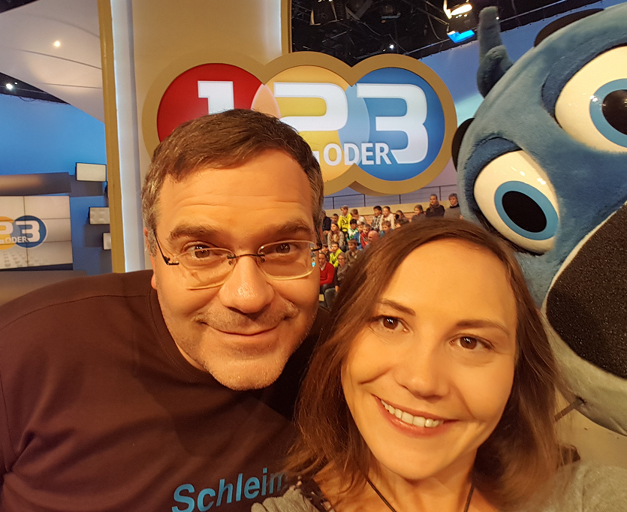 Moreover, being a woman working with natural sciences and sustainability in the DIY scene is still something rare and challenging Nadine, however, found this also to play to her own advantage as it catches attention and opens new opportunities.
Being flexible and adventurous was an important factor for her success: "you need to plan well enough to have some spare time, but you always need to be flexible and adjust to new offers and developments."
Next steps
Nadine is currently busy looking for new markets to expand the distribution of 'Schnexagon'. At the same time, she is working on other ecological-friendly products. However, her biggest ambition for the future is to develop a sustainable anti-fouling product for ships, but "this is very hard" she emphasises. Anti-fouling products are used to cover boats to prevent barnacles and algae to attach to the surfaces that lay underwater.
The standard products used today are incredibly expensive and /or highly polluting. "I want to develop more sustainable technologies – I am testing with many materials in the Baltic, but this is still a long way to go". As she neatly puts it, "this is like a Thomas Edison story, I do not know what works, but I know 10.000 ways that do not work". Yet, with her natural curiosity and a long trial-and-error, Nadine hopes to find the right recipe.
Photos: 'Schnexagon' archive.