Ingrid Vik Lysne: 'Sewstainability' – the rise of reuse and redesign
Ever looked at your grandmother's doilies and thought they would make an excellent top or scrunchie, but don't know how to do it? Been to the flea market and found the coolest fabric you have ever seen, but don't know what to do with it? Being able to see possibilities and transform old clothes and textiles into beautiful garments is perhaps Ingrid's superpower. And she is sharing the sewing-process with us, too. Over the past couple of years, Ingrid has risen to become a well-known re-designer and reusing influencer in Norwegian social media. It is sustainability in practice, and it is available to all.
---

By Mari Wøien Meijer, Nordregio
How it all started
It all started with the beautiful hand-embroidered tablecloths she found at local flea markets: 'There were lots of embroidered tops and shirts in the shops that year. At the same time, there were beautiful hand-embroidered tablecloths in secondary shops and flea markets that no one bought, perhaps because it wasn't very trendy to use tablecloths at the time, but I realised I could make the same tops myself', Ingrid recalls.
She got her sewing machine out and started making tops and shirts, which she eventually sold through her own online platform. Since then, her journey has taken a new direction, but her focus on using old textiles and garments remain the backbone of her newfound 'sew-fluencer' life: 'I'd feel a bit naughty if I was ever to buy completely new textiles from a textile shop', she admits, 'I'm not used to it either. I'm used to figuring out what you can make from what you already have. I'm also always on the lookout for textiles – whether it is curtains, tablecloths, or old clothes', she says.
Does this mean that she is a professional flea market shopper? 'I don't really know what criteria I'd have to fulfil to qualify as one', she says, 'I'm not the one that is at the door the second they open a market, but I must admit that I'm very sad that the whole Covid-19-situation is putting a stop to it', but then she adds, 'It might be a blessing in disguise though, my cupboards are jampacked with textiles anyway'.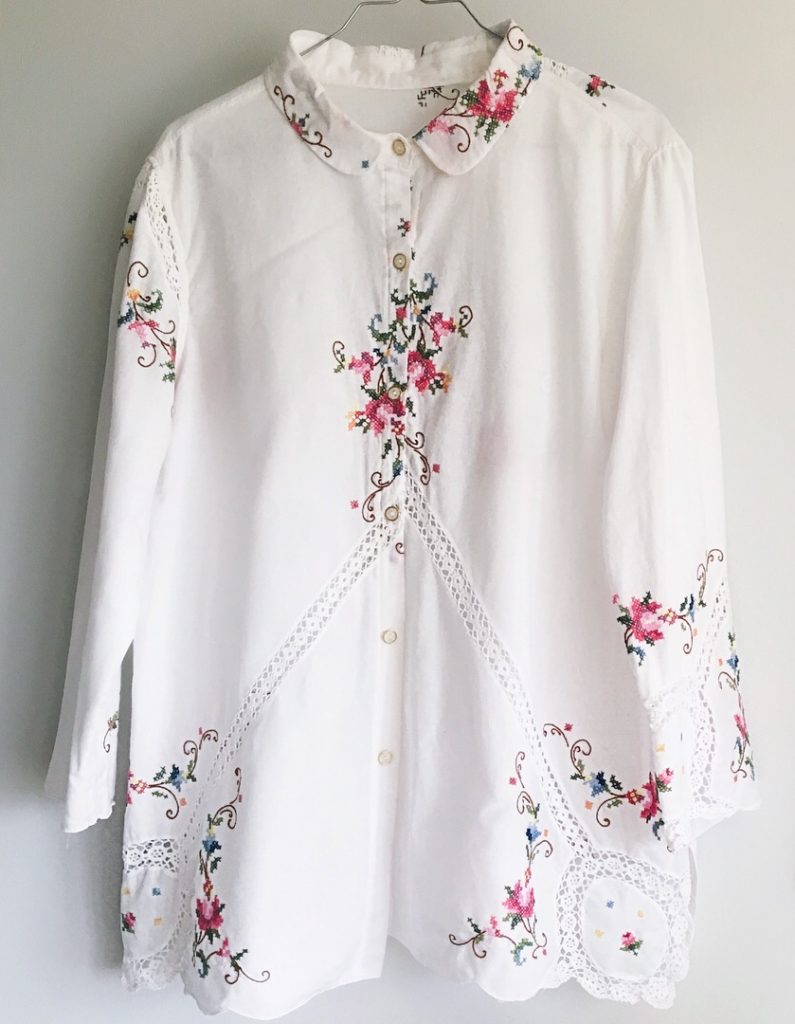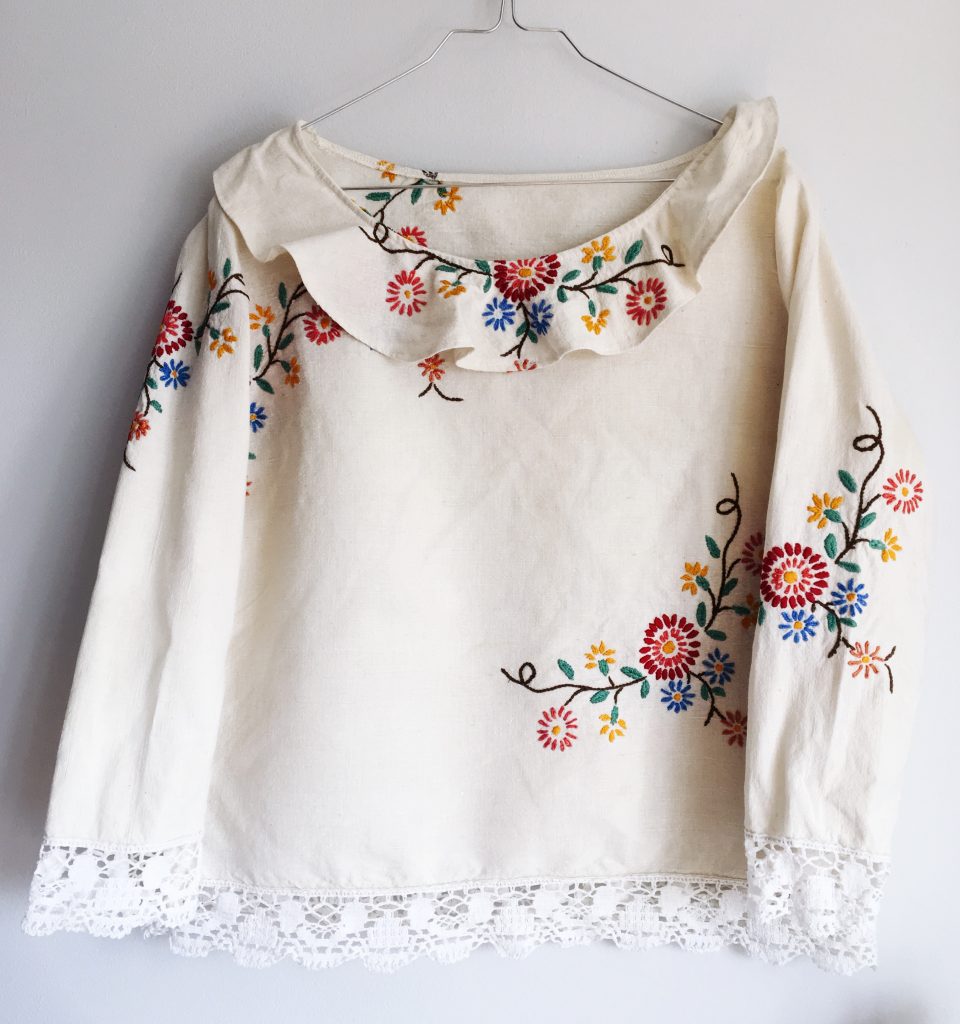 Shirts made from embroidered tablecloths.
But when did the passion for sewing start? 'I've been sewing since I was about 10', Ingrid says, 'My mum always encouraged me to go have a look in the cupboards to see if we had any old curtains or bedsheets that I could make something out of'. She bought her first sewing machine from the money she was gifted for her confirmation when she was 15. However, there was nothing to indicate then that nearly 15 years later she would be making a living from showing people how to make, for example, puffer jackets from old sleeping bags.
Before her sewing career sped up, Ingrid was studying law at the University of Oslo, followed by a move into product design. Currently, she has taken leave from both degrees and is now self-employed full-time. 'The journey has sort of forged its own path as I have developed', Ingrid says, and encourages budding entrepreneurs to give their ideas a go, 'Just start somewhere. You don't need to know where it is going to go, so don't spend time planning too much because it is not going to happen exactly as you envisioned it.'
'Sharing is caring'
Though starting out by selling her beautiful hand-embroidered tops, the job has since changed somewhat. With an increasing presence in social media, her job has expanded to include sewing workshops for municipalities and organisations throughout Norway, collaborative ventures with other re-designers and even a sewing book project which is to be published in August 2020 (Titled 'Sy med Ingrid og Ingrid'). In the autumn of 2019, Ingrid toured Norway with another re-designer, Ingrid Bergtun, with a sewing course focusing on making jackets from old wool blankets. More recently, Ingrid teamed up with Mari Nordén, Jenny Skavlan and Ingrid Bergtun in the sewing collective 'Fæbrik', which aims to bust the barrier to sewing with sewing patterns.
Impactful social media
Social media is a powerful tool to spread the word about the endless possibilities that are at your fingertips if you have a sewing machine and a pair of scissors. 'Social Media has enabled me to be able to live off what I do now, though my daily life has gone from primarily sewing, to producing content for my online platforms, as well as hosting sewing workshops', Ingrid says and adds that it is a lot of work behind all that you see online. Social media is enabling a more personalised type of marketing, an arena for knowledge sharing and it is also a powerful influencing platform: 'It's been quite an organic development for me using social media, so my relationship with these platforms has developed quite naturally.
It has also taught me where my boundaries are when it comes to what I want and don't want to share on social media platforms', she says. Ingrid's social media accounts on, for example, Tiktok (100k followers), Instagram (30.5k) and YouTube (9.85k) have been important platforms for spreading the word about redesign and sustainability, and she has a steadily increasing number of followers. 'I do have a group of loyal followers, too, and I speak quite frequently with a few of them. It feels like we're a big group of friends. It's really lovely. I've gotten to know a few of them, too, like one of the women in 'Fæbrik', Mari. I met her through social media', Ingrid says. The platforms are also forums for feedback, and when looking at her sew-along videos, it is clear that her followers help shape the next projects and the journey.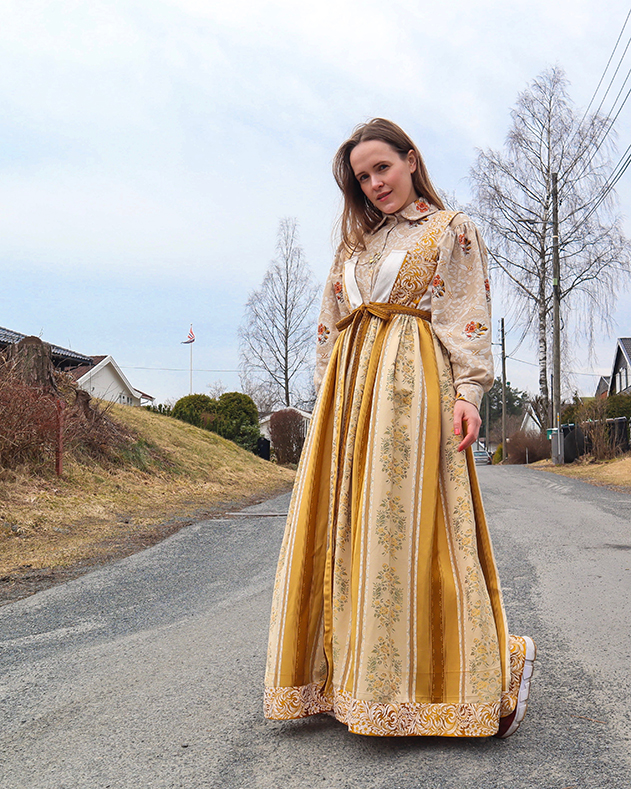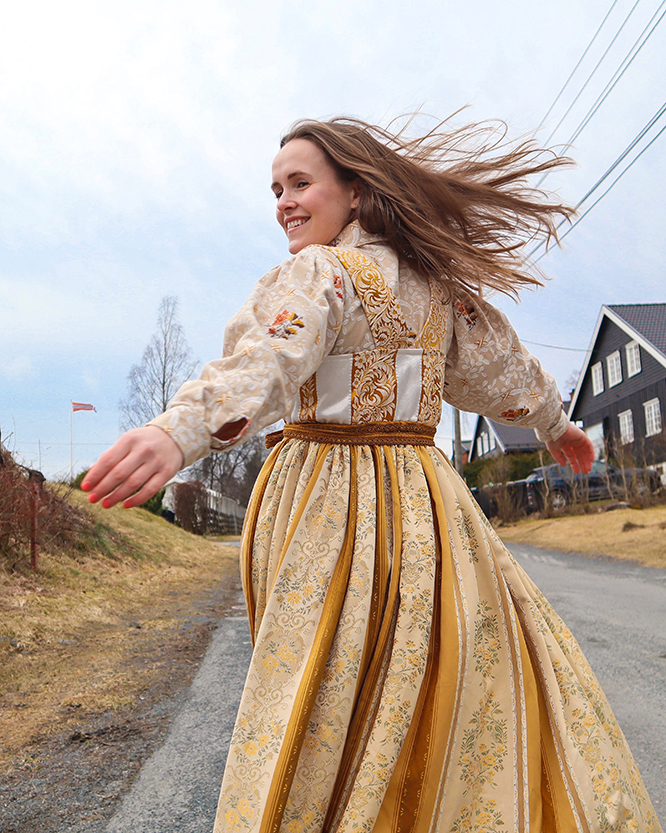 A Norwegian bunad made from old curtains and tablecloths constructed in collaboration with social media followers.
Refashioning the textile industry: Systemic challenges
Ingrid and Ingrid Bergtun also recently started a collaboration with the Norwegian clothing brand Makeløs. The founder of Makeløs is highly aware of the brand's social responsibility and focuses on labour conditions in their factories and the sustainability across their value chain. This led to a collaboration with a factory in Lithuania. Ingrid and Ingrid were invited to design a clothes collection from Makeløs' left-over textiles. 'In the textile industry you have to order a significant amount of material for a clothes collection regardless of how many pieces they make and how big the company is', Ingrid explains, 'so, we were invited to design a collection using left-over textiles, but in order to prevent waste we took orders upfront'.
She furthermore points out that making something from the left-over textiles in these types of collaborations is a win-win for the clothing brand. They get more use out of the quantities of textiles they had to buy at the outset, which would otherwise be thrown away after production; 'I think a lot of clothing brands have to think differently in the future, especially when it comes to their left-over materials', she says.
This conscious relationship with textiles and materials is very important in light of mitigating greenhouse gas (GHG) emissions. The Ellen MacArthur Foundation's report from 2017 shows to the difficult reality of how, on the one hand, clothes are massively underutilised before they cease to be used, and on the other, that GHG emissions from textile production amount to approximately 1.2 billion tonnes of CO2-equivalents annually (Ellen MacArthur Foundation, 2017, pp. 19-20).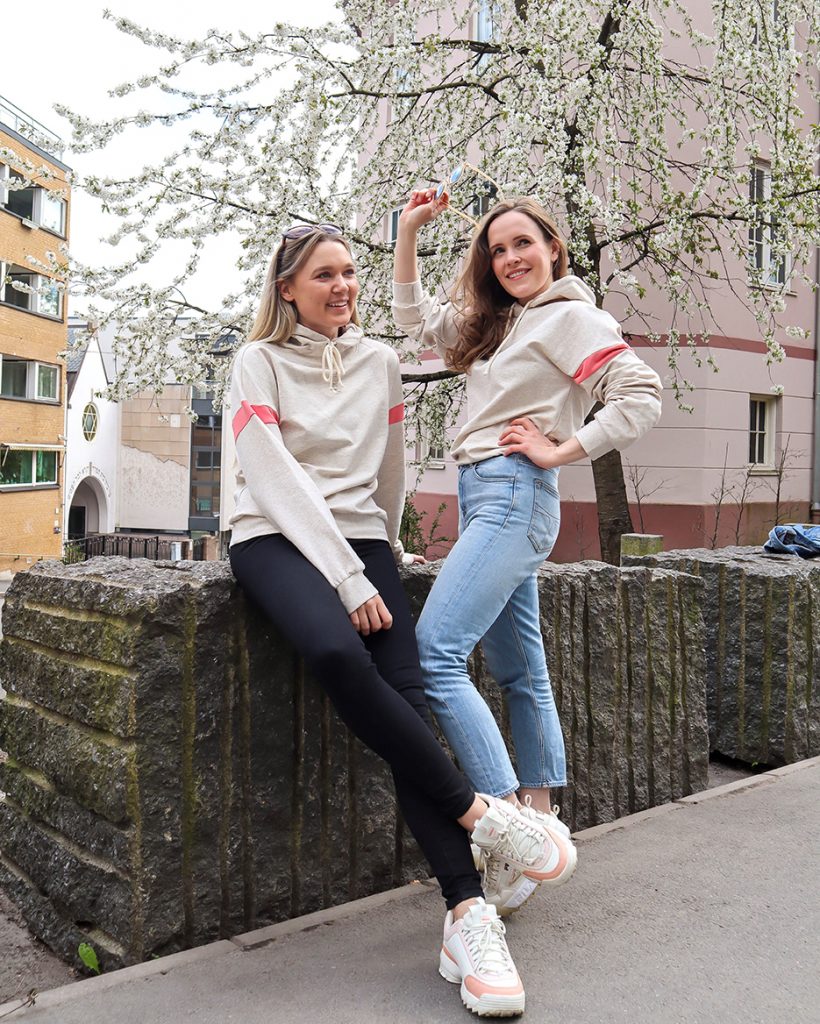 To contextualise this figure, this is more CO2 than all international flights and maritime shipping combined (Ellen MacArthur Foundation, 2017, p. 20). Furthermore, the report also points to other detrimental effects of the textile industry, showing that the dyeing and treatment of textiles can be connected to 20% of the industrial water pollution globally (Ellen MacArthur Foundation, 2017, p. 21). Getting reuse and recycling of materials onto the agenda is thus very important for combatting climate change.
Her own climate and sustainability engagement with regards to the textile industry has become increasingly stronger over the years, according to Ingrid. She has a greater focus on waste now and tries to avoid buying new clothes. Through her social media accounts, you will often see Ingrid bring up the environmental aspect of the clothing industry and show how, rather than throwing garments and clothes away, you can easily mend and change them into something new. Ingrid says that it does seem like people are becoming more and more aware of the environmental footprint of fast fashion.
When talking to the younger participants at her workshops about why they got into sewing they often answer the environment. 'There seems to be an increased respect for the things we surround ourselves with, too, and I think sewing is part of this– and it's cool to make something yourself. It grounds us. It's a break from our digital, busy lives', she says but adds 'at the same time I'm not surprised that we have a 'use and toss'-relationship with clothes, at least in our part of the world. Clothes are so cheap, so you don't appreciate each garment as much'.
A guide to your next steps
Much like the knitting renaissance in recent years, Ingrid believes we are at the starting point of a sewing revolution: 'Sewing is actually easier and so much faster than knitting. You need a bit more equipment perhaps, but if you have sewing pins, a sewing machine, a pair of scissors and fabric from a flea market, you are good to go. You can make anything!' Sewing might feel a bit daunting at first, but Ingrid points out that perhaps you shouldn't start out by redesigning your mother's old wedding dress. Perhaps start your sewing journey by redesigning old textiles instead, like that old curtain you found at the second-hand shop down the street: 'What is the worst that can happen? If you cut too much, well then you might have to rethink and adjust as you go.'
The other classic example is redesigning a pair of jeans into a pair of shorts or a skirt. That's within everyone's reach: 'A pair of shorts cut out from an old pair of broken jeans is perhaps the most common entry into redesign,' she says and adds that the Salvation Army shops get an enormous number of jeans from people who feel the fit isn't right anymore. Lots of opportunities to find something there, in other words.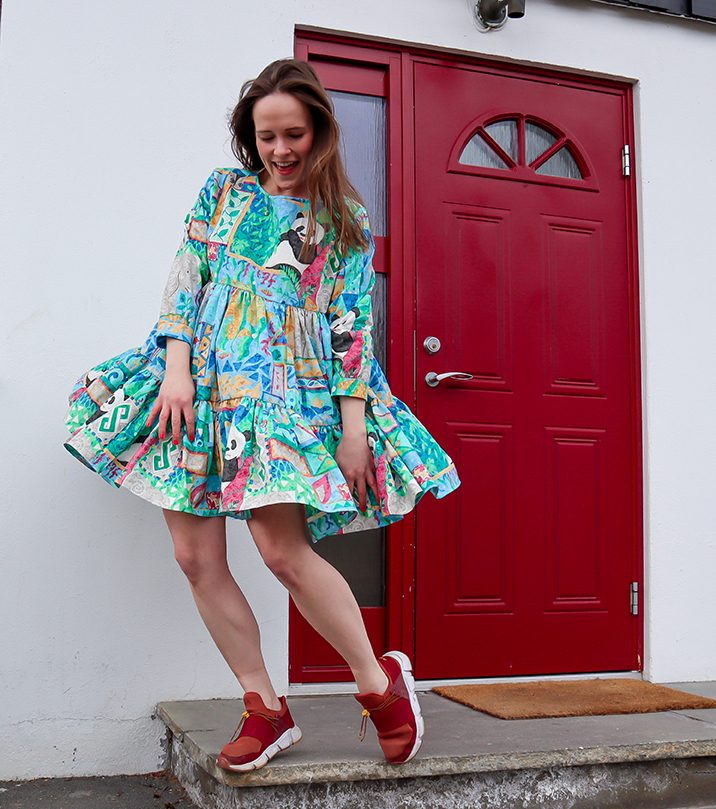 When using old textiles and garments, the most important thing to remember is that you have to change your way of thinking: 'Lots of people start out by imagining what they are going to make before they make it, and then try to find the perfect fabric to match that idea. But redesign is more about understanding what the garment you have at hand is, in order to be able to see what garment can be', Ingrid reflects.
As an avid textile collector, she also provides us with some inside information on the key to successful textile shopping at flea markets and second-hand shops: 'You need to consider what it is that you can do with the different types of textiles. Not every textile is right for every purpose. With a heavy curtain fabric for example, you might be better off making a skirt. You are less likely to have to clean it as often, and you do not sweat [onto the garment] as much. If you are to make a top, you would be better off with a fabric that breathes a bit more'.
A 'sewstainable' future
Ingrid's various initiatives to inspire budding (re-) designers across Norway are important steps towards changing our attitudes and increase our awareness towards, not only the design and creative process, but also the innate value of garments and textiles. She is reminding us of the endless possibilities we have to make unique garments, break away from fast fashion, all whilst doing our little bit for the environment. It is sustainable, fun, and rewarding, and with Covid-19 preventing us from socialising as we used to, why don't you let sewing be your newfound 'Corona-skill'?
Feeling inspired? You're not alone. I'm off to rummage through my cupboards and drawers. I am sure I have a pair of old, torn jeans somewhere that will make the perfect denim skirt for the summer. Good luck and happy sewing!
Photos: Ingrid Vik Lysne archive.