PANEL DISCUSSION: The Role of Regions in the Green Transition
The transition towards a green economy cannot be achieved with top-down policy or technological innovations alone. Actions are needed at multiple scales to transform the interlinked social and technical systems. However, rather than aiming for a single grand solution, regions can play an important role in identifying different place and context specific solutions appropriate to the locally available resources, knowledge, networks, and institutional frameworks. Local action, however, requires leadership and vision to mobilise businesses, networks, and public institutions to align efforts towards a common goal.
---
By Alberto Giacometti, Research Fellow at Nordregio, the project leader of BioBaltic
---
This session was organised at the 'Sustainable Bioeconomy Development 2022: Theory and Practice' online conference as part of the BioBaltic project efforts to generate exchange and learning across Nordics and Baltics on how to build a bioeconomy and circular economy. The conference is organised annually by Vytautas Magnus University in Lithuania in collaboration with Latvia University of Life Sciences and Technologies.
The panel was formally opened by Assoc. Prof. Dr. Bernardas Vaznonis, Dean of Faculty of Bioeconomy Development, Vytautas Magnus University and was co-moderated by BioBaltic partners, Virginija Kargytė, from the same university, and Alberto Giacometti, researcher at Nordregio.
The panellists gave a first round of presentations followed by an open discussion on what are the key 'ingredients' to enable a green transition from local levels, based on their experiences.
Sustainable food industry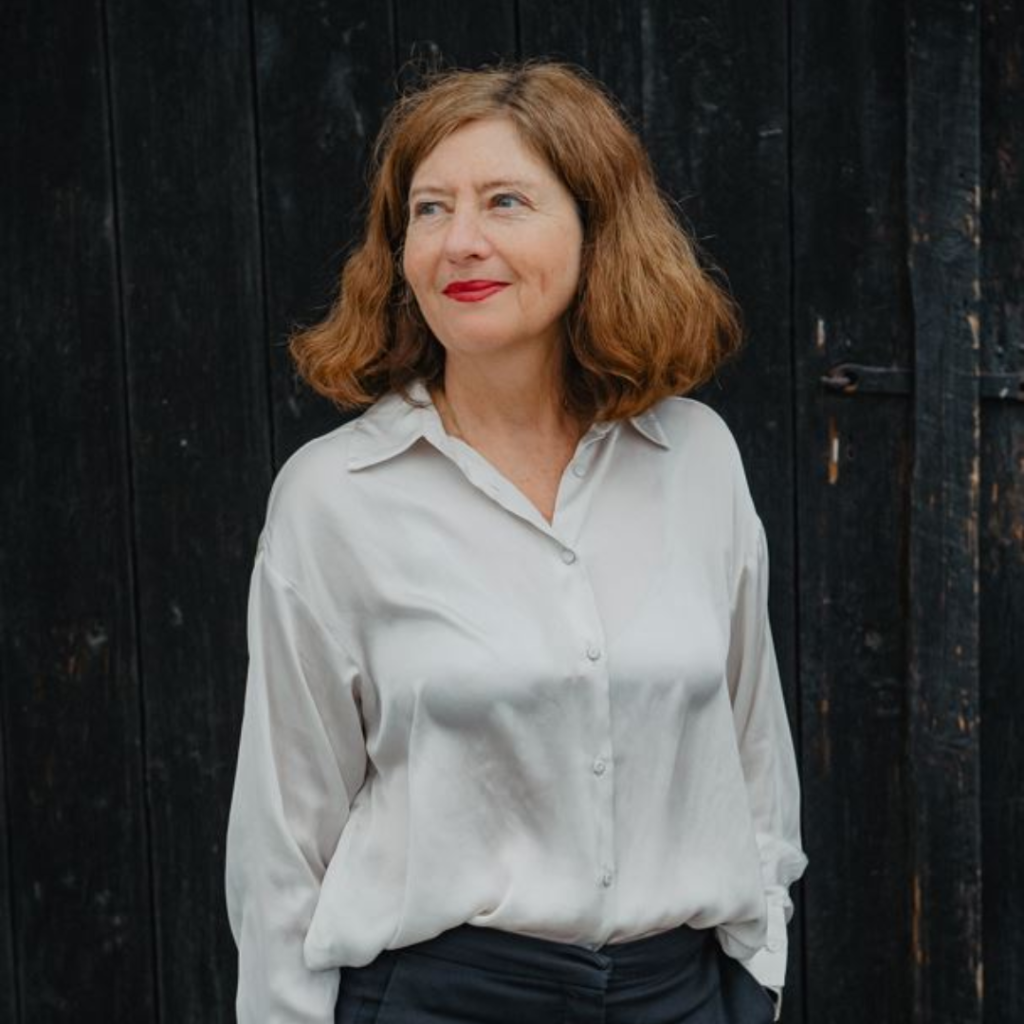 The first speaker was Eva Helén, project leader at Södertälje Science Park. Eva shared the experiences of the municipality of Södertälje, in Sweden, efforts in pushing for sustainable food industry.
"We are a living-lab for sustainable food systems" Eva claims. The municipality applies the 'Diet for a Green Planet' concept, which "is a holistic and systemic approach to work with health and food in a sustainable way". An important first step, Eva recognises, was the political decision made in 2001 to use procurement, particularly food purchasing, as a tool for triggering change in the food system. The municipality is a large food client, it provides over '13.000 meals per day in schools mainly'. Therefore, procurement can have a scalable influence on the system. Furthermore, Södertälje introduced a diet policy in 2010, which paved the way for articulating actions with different actors, and to create an arena for interaction with the business community. Putting words into action, the MatLust project was established to offer companies free of charge development programmes, testbeds, networks, and support to scale up and work with sustainability. Södertälje has offered the school kitchens as test-beds for testing new foods. This is one example for how the municipality has creatively used the tools it has at hand to support companies with product development. So far over 200 companies have joined the MatLust programmes.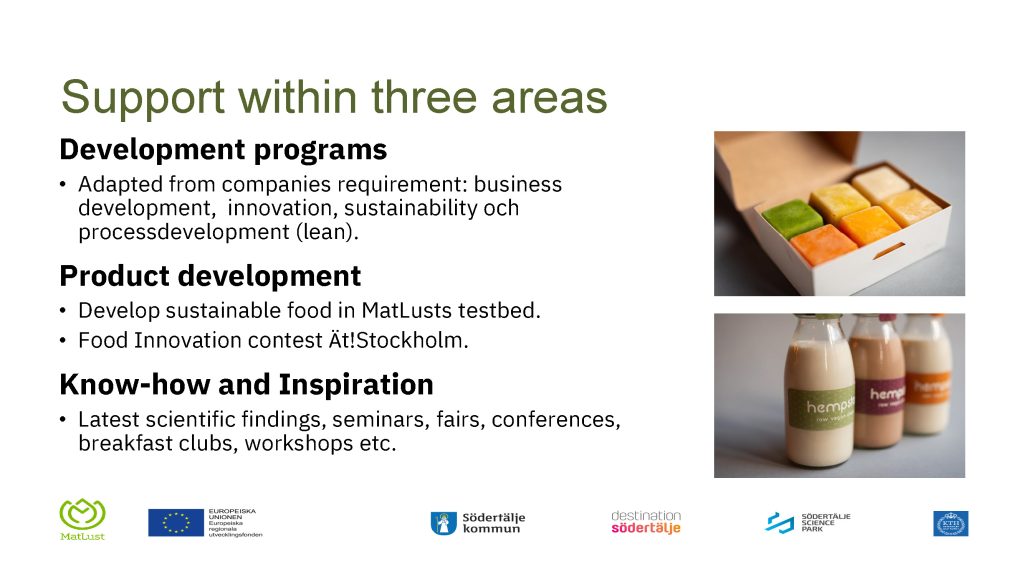 According to Eva, Sweden imports over 50% of its food. Therefore, identifying locally produced substitutes is one key way to reduce the ecological footprint whilst strengthening food security. Whole grain cereals, for instance, can reduce the climate impact with 1/6 and has better nutrient content compared to rice. Since, Södertälje municipality began supporting local alternatives, whole grain consumption has increased tenfold while the consumption of rice has dropped by a third. Similar efforts are being made to replace imported chickpeas with Swedish peas.
In Eva's judgement, the success of Södertälje in generating a more sustainable food system results from the incremental efforts made over time, with a clear vision, decisive political measures, and strong reliance on collaboration and networks. Despite resources are limited, using EU project funding programmes can be used strategically to contribute to long-term visions and goals. Indeed, "EU projects that have helped us build the 'Diet for a Green Planet' concept, and to establish lines of collaboration with the society and businesses".
Lahti: from an industrial city to European Green Capital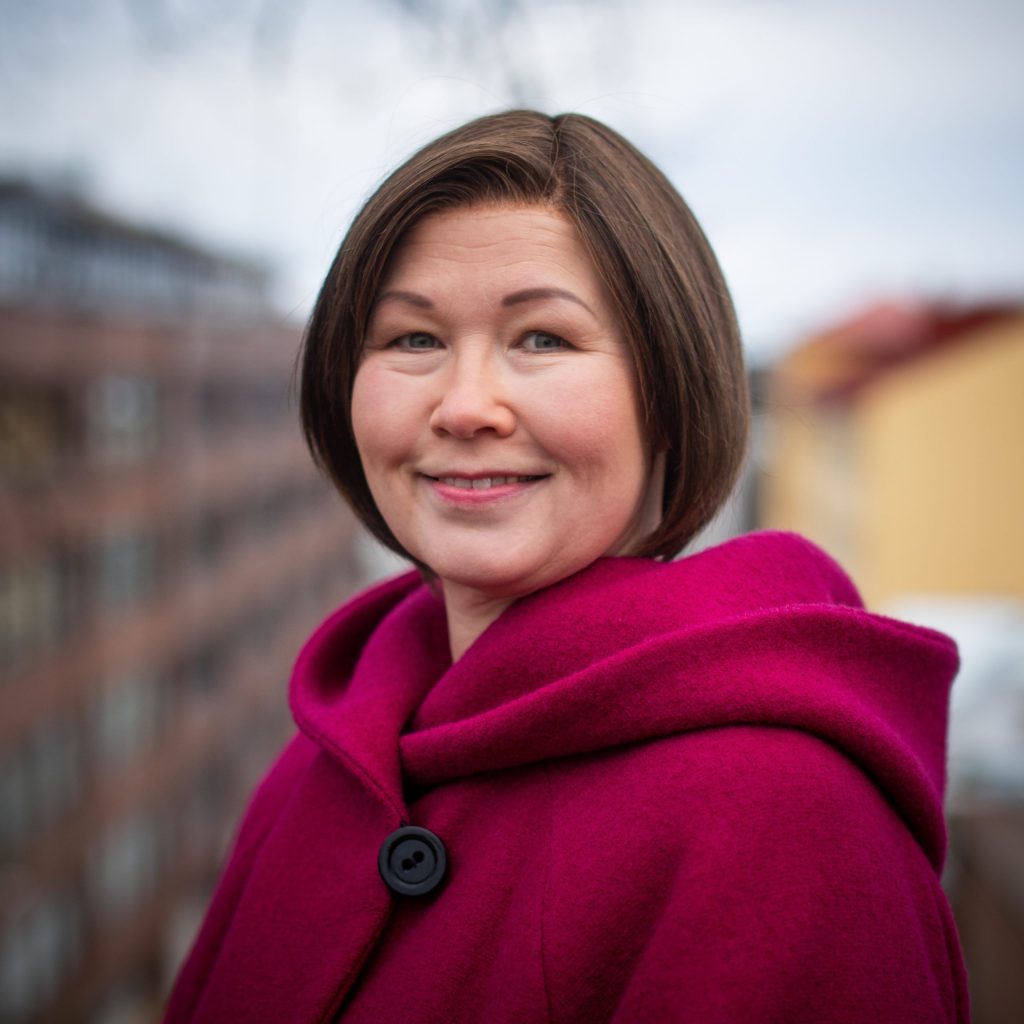 The second speaker, Milla Bruneau, is a city politician in Lahti, Finland, and the Executive Director of Lahti's 'European Green Capital 2021' project. Milla described the journey Lahti, a traditionally industrial city in south Finland, underwent to becoming the European Green Capital 2021.
Lahti's '360-degree sustainability transformation' began in the mid 70's. "Vesijärvi lake was so polluted when I grew up that we could not swim or fish" recalls Milla. Stopping wastewater discharge from the industry to the lake, in 1976, marked the first step towards the right direction. The conservation efforts of Vesijärvi lake 'was the largest restoration of a food web in the world'. As a result, people and fishermen returned to use the lake. "I can go swimming and I can get zander from the lake on my plate at the local restaurant". These tangible results are "very relatable to the local citizens" Milla points out, "and that is very important because residents need to understand how they benefit from the way tax-payers money is spent in carrying out sustainability initiatives".
Following the flagship initiative to clean up Vesijärvi lake, Lahti has worked committedly in multiple fronts to cut the city's ecological footprint. An efficient waste management system was developed, with only "1% of waste not being re-utilised today", notes Milla. And further improvements are being discussed to minimise incineration by giving multiple uses to waste and eliminate single use materials. Furthermore, "we have cut CO2 emissions by 70%", to a large extent by a complete energy transition. "We stopped using coal in 2019, and now the majority of energy consumed in Lahti comes from waste and biomass".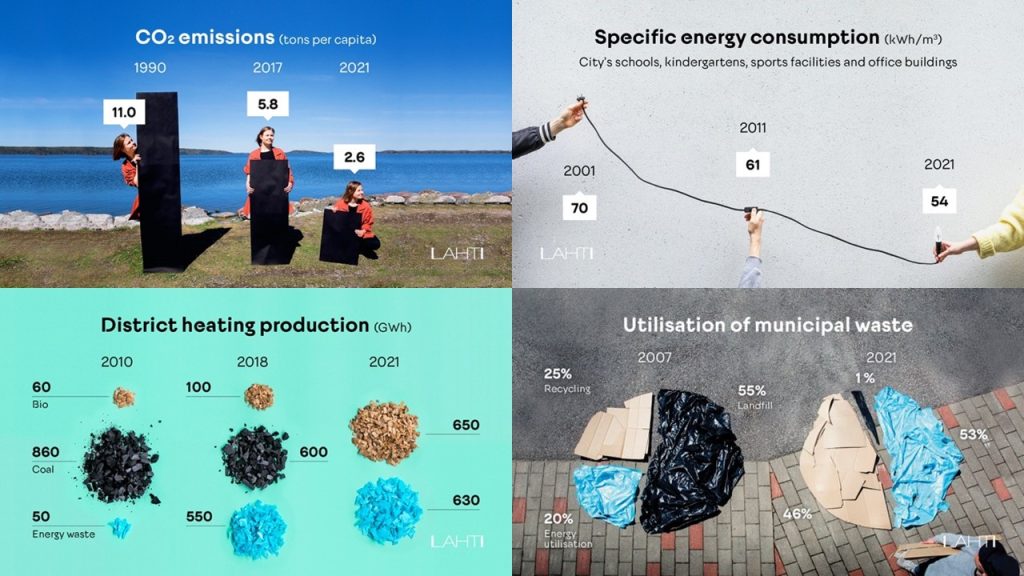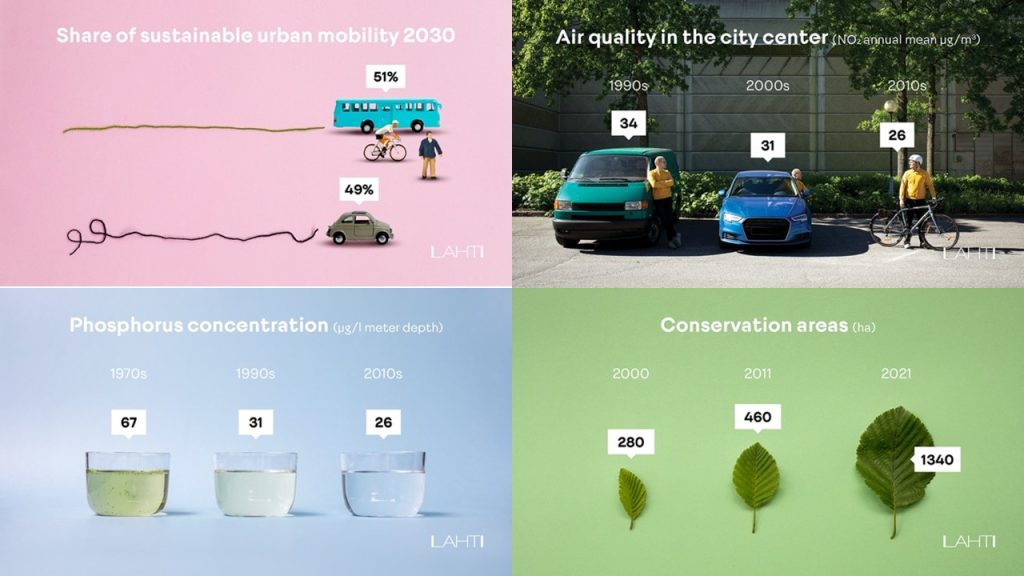 Source: Milla Bruneau
Important steps have been made also around mobility and transport sector. Milla notes that Lahti is now focusing on facilitating "alternative mobility, such as bikes that can be used even at winter time". There is a bike-sharing system in place, which includes electric bikes. "We are also doubling the fleet of electric buses this year, which will mean that two-thirds of our public transportation units will use more sustainable energy sources". Construction is another area that needs much attention in the coming years, Milla recognises. "We need to make sure buildings use sustainable materials, particularly in a city where we are renovating, tearing down buildings and building new ones". Aside from materials, buildings "need to be energy efficient".
Lahti's transformation, however, has not come to an end. Ambitions have only become higher. "Our roadmap for 2025 is to cut up to 80% of our emissions compared to 1990, and compensate the remaining 20%". Although the year 2025 is on the doorstep, Milla is confident that the goal is achievable. "This is also the reason why Lahti was selected as one of '100 Climate-neutral Cities by 2030', which is part of the EU Missions initiatives under the Horizon Europe programme. This programme will provide the 100 selected cities in Europe with funding and support to achieve carbon neutrality by 2030. Additionally, Lahti has a newly established University since 2019, "which makes us the first city in 40 years to get a university in Finland". Milla thinks that this "will play a very important role in our regional development". "Industries and companies need the research and competences coming from the university, so this is a huge opportunity for us" she concludes.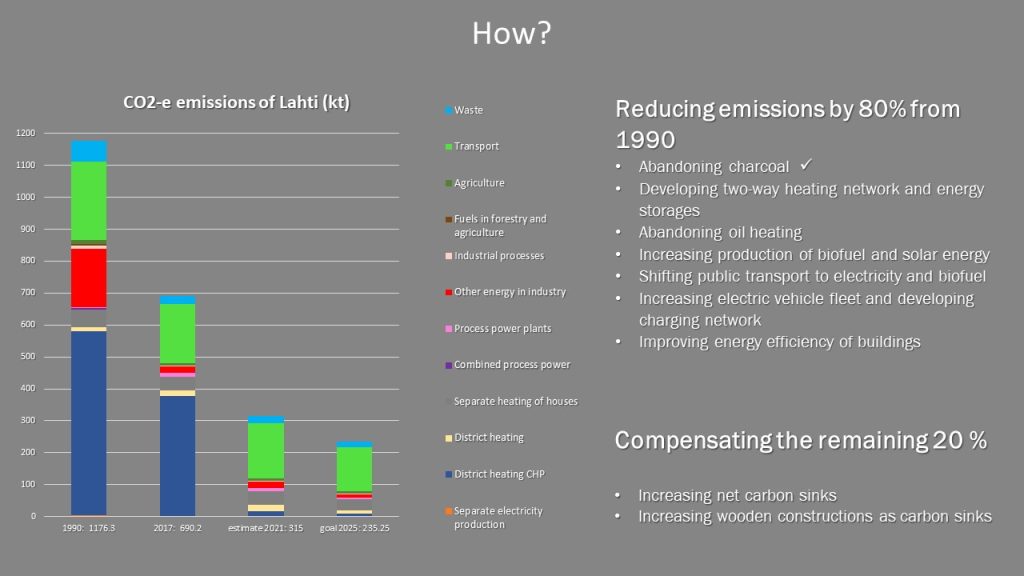 Lahti's success, according to Milla, has relied first on having a clear vision followed by a leadership, not in a centralised entity, but network leadership, where different stakeholders take responsibility for driving concrete processes. Also, a sense of ownership has been created within the society at large. According to Milla, "in all these different initiatives, citizen engagement has been crucial", and "the earlier they are involved the more they will relate and be more accepting towards changes". Efforts were made to get the 'local sport heroes and the local symphony orchestra' to communicate the message of 'Green Lahti'. "It is not the same if the mayor or myself talk about these things, but if the sports hero, or fellow citizens talk the same talk, then it becomes relatable to other citizens". These creative ways of engaging citizens, as well as establishing concrete lines of collaboration with academia, local NGOs, businesses, have been key ingredients for Lahti's success.
Integrating nature into regional and city planning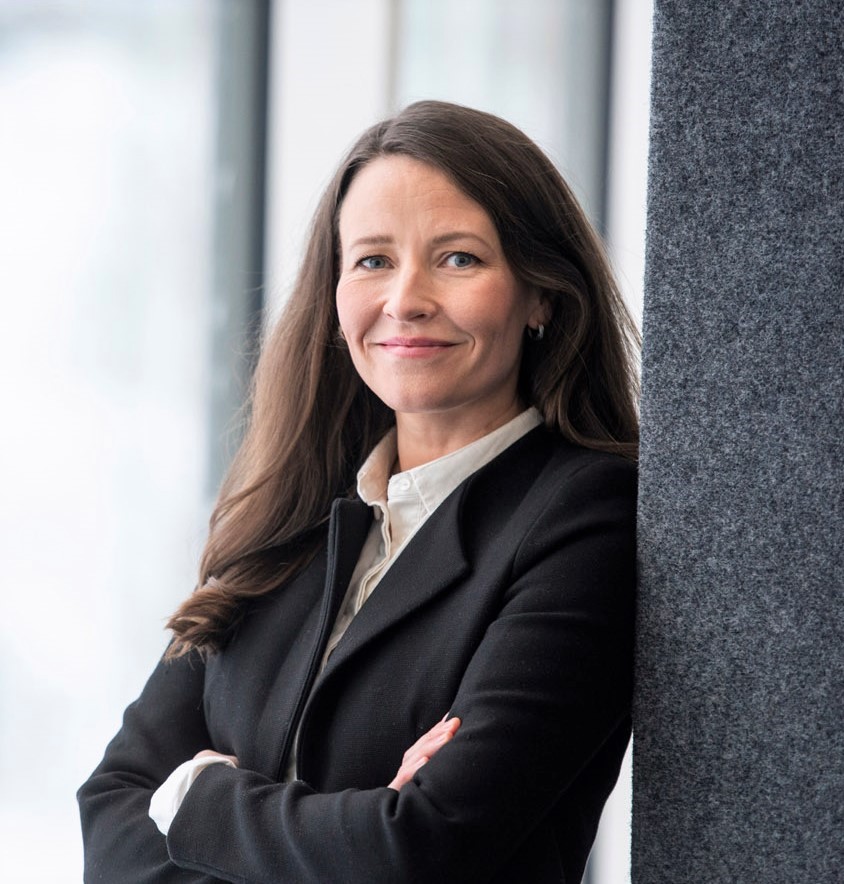 The third speaker, Elina Kalliala, landscape architect and development manager at Ramboll's branch in Finland, shared her experience working with integrating nature into regional and city planning. Elina provided a wider perspective based on commonalities identified across several municipalities.
Cities are generally understood and managed in 'layers' – the underground infrastructure, road infrastructure, buildings and integrated into these the blue&green infrastructure that includes the soil, water systems and vegetation - the natural environment. On top of these we have all the services and the social systems. "In the city development the focus is more and more on the blue-green infrastructures, the value they give to the other layers, and seize their potential in achieving sustainability goals". Blue-green infrastructures refer to both the natural and man-made water (blue) elements, such as wetlands, floodplains etc, and to (green) trees, lawns, parks, fields, forests, etc.
"My job consists very much of pushing systems thinking, because individual projects are just one piece of a broader puzzle" describes Elina. In any given municipality, there are meadow areas, forest areas, and built areas with natural elements, all of which fulfil their own function in the system. For example, "areas with low-rise buildings are often important for biodiversity". Now, at the smallest scale, the street, there are a lot of things going on that we may not see. "They are not just roads for people, but for water, insects, and other animals" notes Elina. Therefore, "we need to create understanding of how single interventions to integrate nature into planning brings benefits at multiple levels". Trees and greenery, for instance, produce better micro-climates and changing the temperature of a street by absorbing carbon, improving air quality and providing shade. "Psychologically, these have also a positive effect on people". Additionally, floodplains and other for example biofiltration structures help water management, as they enable water filtration and provide storage and retention capacity, reducing pressure on drainage systems and preventing floods.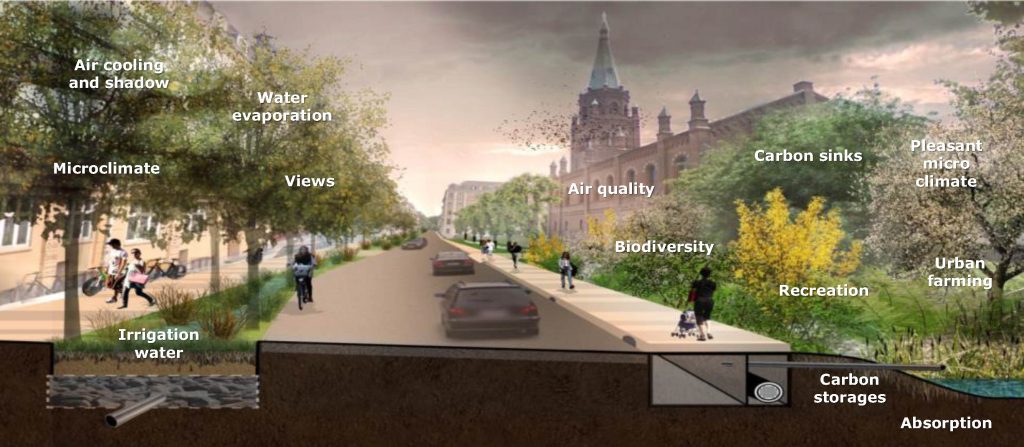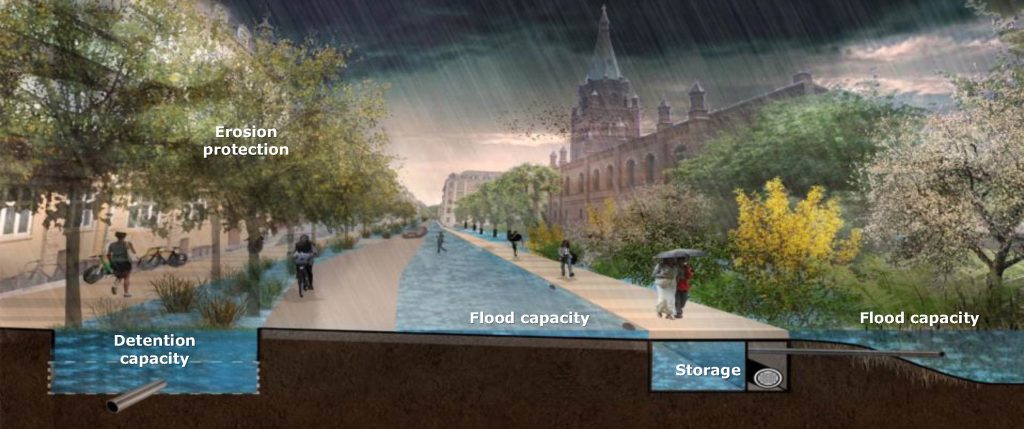 Source: Elina Kalliala, Ramboll (original visualizations copyright Ramboll Studio Dreiseitl)
In addition to layers, we need to understand cities from the users' perspective, "across sectors and interest groups, and each of their own needs and interests for how to use and develop spaces". Most actors tend to know about mostly about their interests and spaces related to their activities, lacking an overview of other stakeholders' interests or relevance of elements, including nature elements, for the overall system. Thus "what I work with is not only on minimising the impact of human activity on the natural environment, but with generating awareness of the benefits and value that different nature elements and processes bring to the city and society, and help to design spaces accordingly".
Planning processes are complex and chaotic where trade-offs need to be made among many actors and sectoral interests intersecting. What we prioritize or how we give a higher value to one interest versus another, is far from a clear-cut exercise. Planners need to grapple around the objective and measurable data and the subjective data based collected through consultations and other forms of citizen participation. For instance, "the value of ecosystem services is to some extent determined by the subjective views of residents". A traditional farmland, a forest or a park may have higher or lower value to residents depending on their history or how they personally associate to them.
The measurable data, however, can provide valuable input to make informed decisions. "We calculated carbon sinks and storages in the Helsinki region" Elina explains. This "data gives us essential knowledge of the natural capital that we have, of that one layer that needs to be contrasted with other layers before making land-use decisions.
In Elina's experience, good experiences typically emerge when there is "a culture within institutions that enables change, that provokes people to think differently, and where innovative ideas are welcomed and taken onboard". One good practice in her words is to identify specific hot-spots that are problematic, then identify who are the relevant key actors, and openly discuss workable trade-offs, letting them reflect on how their roles can change".
Joint discussion
One key discussion point involved how to generate network type of leadership and drive processes at the sub-national level when the 'hard' power of municipal and regional authorities is limited, and non-governmental actors have no mandate. Milla commented that "it often takes one or a group of smart women and men with a clear vision, to the way", and while "political leadership is important, the political leaders need encourage leadership taken by other actors into specific programmes or actions". Eva and Milla also brought up again the importance of having a clear vision. This "vision needs to be strong, and you need to be consistent with it" emphasised Eva. By "building ownership, you can create a shared vision" among all actors, corroborated Milla. Elina noted that success cases typically exhibit an "internal institutional culture that welcomes innovation".
Elina also noted that there is not a specific type of municipality that is prone to success, but "there are successful stories in cities and municipalities of all sizes". Milla agreed and noted that both "Lahti and Södertälje are typical European mid-size cities, where the majority of Europeans live". Milla further pointed out that "Lahti is the smallest city to be selected as Green Capital". Elina then concluded that "what is important is a culture of change, cooperation, vision, and good ideas".
Speaking of good ideas, Eva suggested that "a very good way to make an impact is by working with school kids, which in turn will educate their parents - if they decide to change their diet preferences, their parents will have to adapt". "Children educate their parents these days" Milla added. In Lahti, she tells, there was a very successful initiative to raise awareness about food waste. "A camera was installed at a day-care composting site so that kids could follow 24/7 on YouTube how the larvae transformed organic waste into compost, which was then used to grow flowers that kids brought to their mothers for Mother's Day". Then kids were excited to tell the story to their families. These types of initiatives, both panellists argue, can be very effective in raising awareness about food waste, and also to provide tools for ow to deal with inevitable waste.
Virginija noted, however, that visions a positive culture and good ideas may not be enough to make things happen. She referred to the reality in Lithuania where "it is challenging to implement any initiative when municipalities need to lobby the competent ministries for funding". In response, Milla reflected that mandate and funding can be a barrier but emphasised that that is precisely why municipalities need to take responsibility to drive their own processes and set their own visions. In that way, she added, municipalities can rely less on the national government and gain support from private companies and other actors and capture European funds to serve their long-term visions. For instance, "the 100 Climate-neutral Cities by 2030 programme by-passes the national authorities; the EU works directly with cities in driving the process". Eva also noted that in Södertälje "we have organised big, huge events, and made a lot of fuss about it, to get many actors aware, build momentum", and eventually, "some of those actors sponsored and supported the municipal programmes". Finally, Eva concluded that "after all we only have soft power, we have limited resources and mandate, so we need to work with influence and networks".