News and Events
On this page, you will find news from project reference group meetings and invitations to events.
Reference group meeting #2 in Stockholm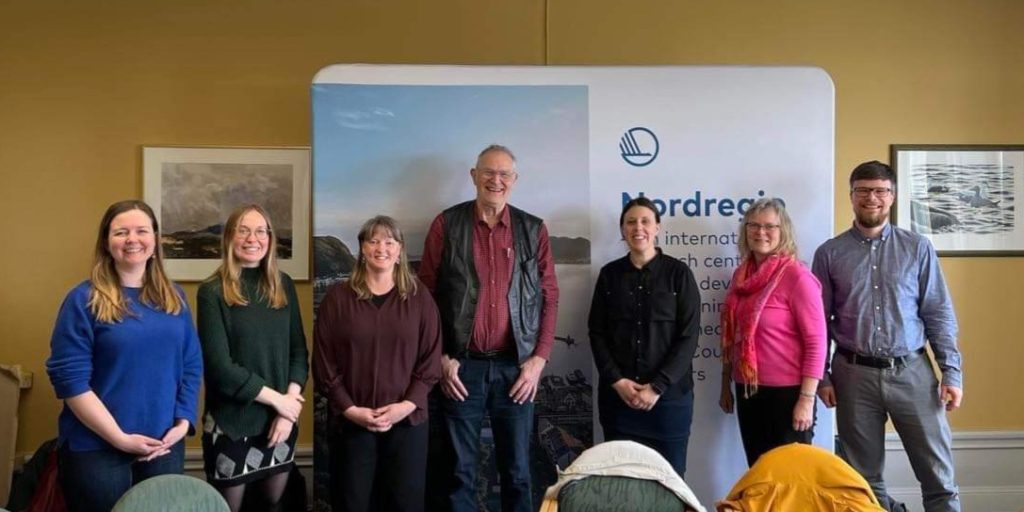 26-27 April 2022, the research team arranged a lunch-to-lunch meeting with the reference group in Stockholm at Nordregios premises on Skeppsholmen. It was the second time the reference group met, but the first time physically which added an extra layer of knowledge exchange and relation building between research, policy, society and business actors in the project. It also enabled anchoring the project of locally owned energy in ongoing initiatives and needs that have arisen since last meeting in November 2021. To contextualise the Swedish focus of the project in the international research, Johanna Liljenfeldt presented preliminary results from the literature review of locally owned energy.
The reference group member Ewa Engdahl from Coompanion presented about cooperations and how to distinguish from limited companies, and ways to potentially further develop these forms of companies and organization to suit the establishment of locally owned energy. These two presentations were the foundation for discussing potential cases, questions to address through the case studies, and the structure and content of a practitioners' guide that aim to provide knowledge on how to enable and create more locally owned energy solutions. We also had the time to walk across town for a lovely dinner at the restaurant Knut. The next reference group are planned to take place in June 2023. At that point case studies will have been conducted and the first meeting in the knowledge exchange network on locally owned energy will have taken place.
---
UppTalk 29 March: Local communities need local energy production
There is a need to promote locally-owned energy projects in Sweden. The EU emphasizes this as a key to the sustainable energy transition. In this week's UppTalk, Johanna Liljenfeldt (Uppsala University) and Elin Slätmo (Nordregio) will talk about how to increase successful local ownership of energy by sharing knowledge, and studying opportunities, risks and the values of local energy ownership for local communities across Sweden. The session in UppTalk is based on the project Local ownership in transitions towards sustainable energy systems (Lokalt ägandeskap i omställning till hållbara energisystem), funded by the Swedish Energy Agency (Energimyndigheten).
UppTalk Weekly is a popular science seminar series by Uppsala University. The recording is available on Youtube (in Swedish):
---
Energy and Local Ownership (ELO) met with the reference group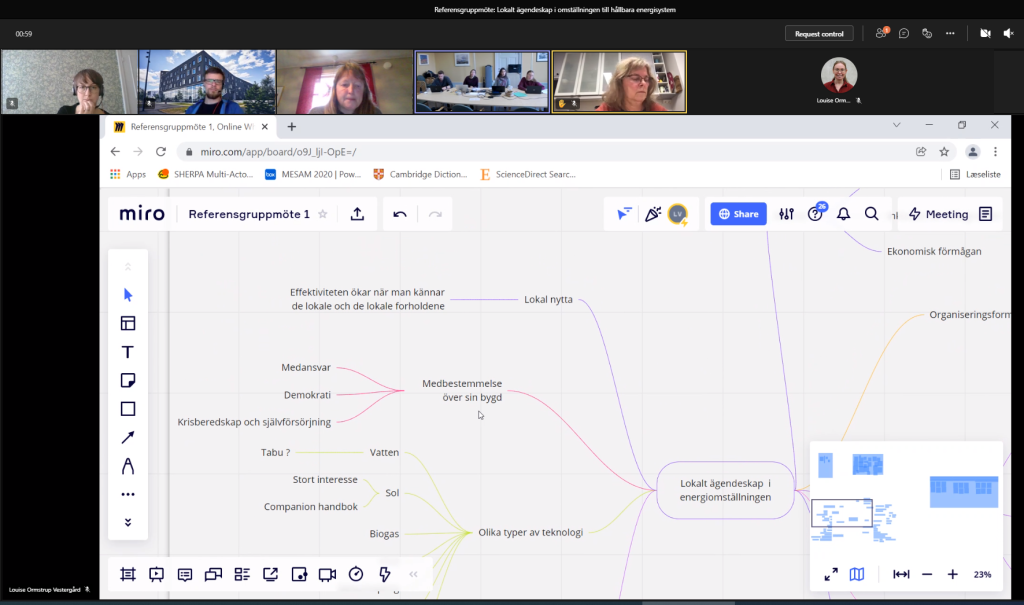 The research group in the Uppsala university/Nordregio collaboration Energy and Local Ownership (ELO) arranged the first reference group meeting as a hybrid lunch-to-lunch event November 30 to December 1. This for the project with the formal name "Lokalt ägandeskap i omställningen till hållbara energisystem" financed by Energimyndigheten, the research program MESAM. It was our first milestone in the project, and we managed it well together!
We got new input about how to define local ownership, and what is on the agenda regarding energy in Sweden and Denmark, for instance the tax rules that are perceived as a hinder to energy community developments in Sweden, new understandings about energy governance, and that local ownership definitely is a topic in both urban and rural areas, although rural areas might have more negative environmental impacts due to the scale of the energy facilities located there. We hope the reference group ensure that the project is relevant and timely. The next meeting will be in April 2022. Then we aim to have developed a typology to help us choose the right case studies.
---
Official kick-off meeting
20-21 September the official kick-off meeting for the project "Local ownership in transitions towards sustainable energy systems" took place. The meeting was organized by Johanna Liljenfeldt and Charlotte Flodin at Uppsala University campus Gotland. The team from Nordregio: Elin Slätmo, Johannes Lidmo and Louise Vestergård traveled to Gotland to participate in the meeting, while Pipsa Salolammi and Elin Cedergren participated online. We understood that the weather was poor in Stockholm, this was not the case in Gotland. The one-and-a-half-day kick-off meeting included among others a step-by-step run-through of the three-year project, discussions about who to invite as reference group members, a workshop on local ownership, technical problems, conversations about communication activities, dinner at Creperiet in Visby with apple cider and galettes, and brain-twisting to find a good and suitable abbreviation.
For the rest of the year, the project will have two central activities: to start working on the literature review on local ownership in the energy transition and have the first reference group meeting which will take place in November at Skeppsholmen!
Enjoy sounds of late autumn in Almedalen, Gotland, here.