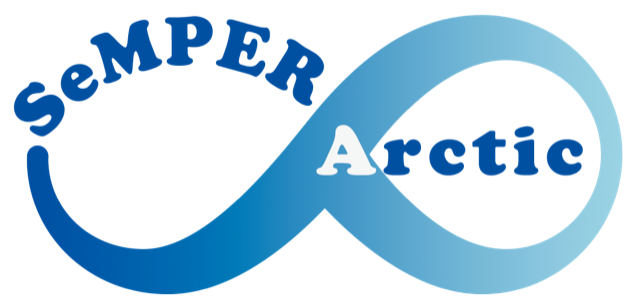 SeMPER-Arctic News
SeMPER-Arctic paper published on the framing of resilience
September 2021, Arjan Wardekker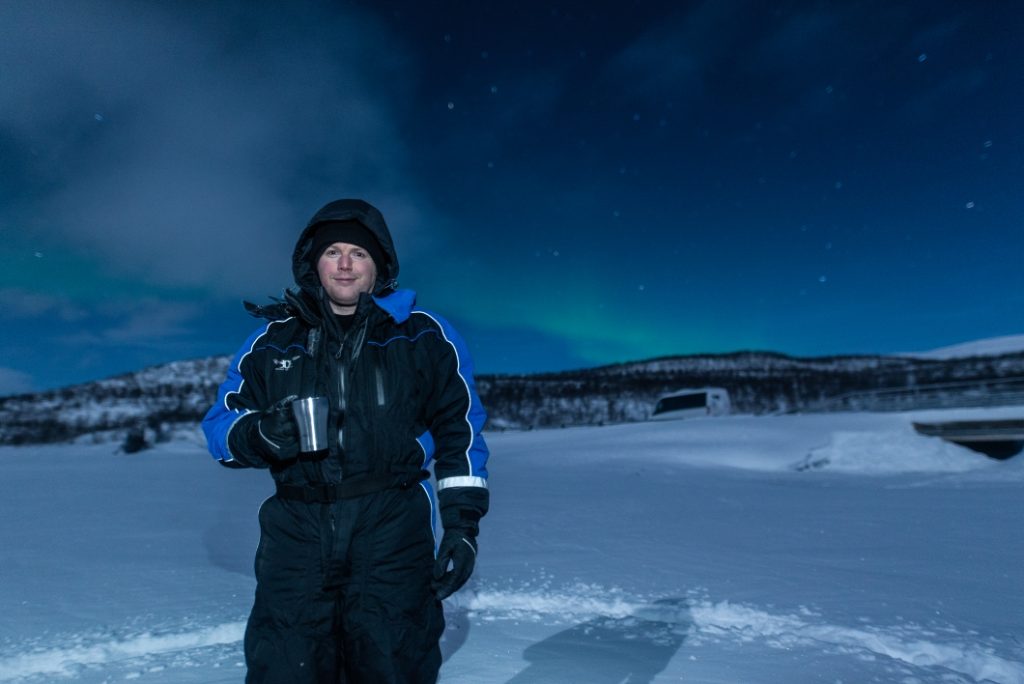 SeMPER-Arctic's work package 5 leader Arjan Wardekker published a review of how resilience is framed in the scientific literature. Resilience is a central notion in SeMPER-Arctic, but it is interpreted in different ways. Some authors focus on short-term shocks (resilience is about quick recovery to 'normality' after disasters), while others emphasize long-term change (resilience is about the ability to adapt and transform, to move with the changes). Some focus on systems (resilience is about managing flows and (infra)structures) and others on communities (resilience is about individual and communal capacity-building). Framing impacts how resilience is researched, analyzed/monitored in practice, and turned into policy options. Because people frame resilience in different ways, they are hyper-focused on specific problems, causes, moral dilemmas & trade-offs, and policy options – but also develop blind-spots to others.
The paper is illustrated using examples from urban and climate resilience but is based on an analysis of wider literature, such as those on disasters, ecology, climate adaptation, and planning. These same disciplines are also working on Arctic resilience, so the results will be relevant to the Arctic as well. In SeMPER-Arctic, for instance, we're examining resilience-perspectives from climate science, anthropology, regional planning & development, and economics. SeMPER-Arctic will use the framework developed in the paper as a starting point. As a next step, we will further tailor and detail it to Arctic resilience and use it to analyze our local interview material in the Greenlandic and Russian case studies. A comparison between this framework and local and regional narratives could reveal what aspects of resilience might be important in Arctic practice and where the 'lived realities' of Arctic resilience might be different from how scientists currently study it.
---
Lecture for the 7th Korean Arctic Academy
August 2021, Anna Karlsdóttir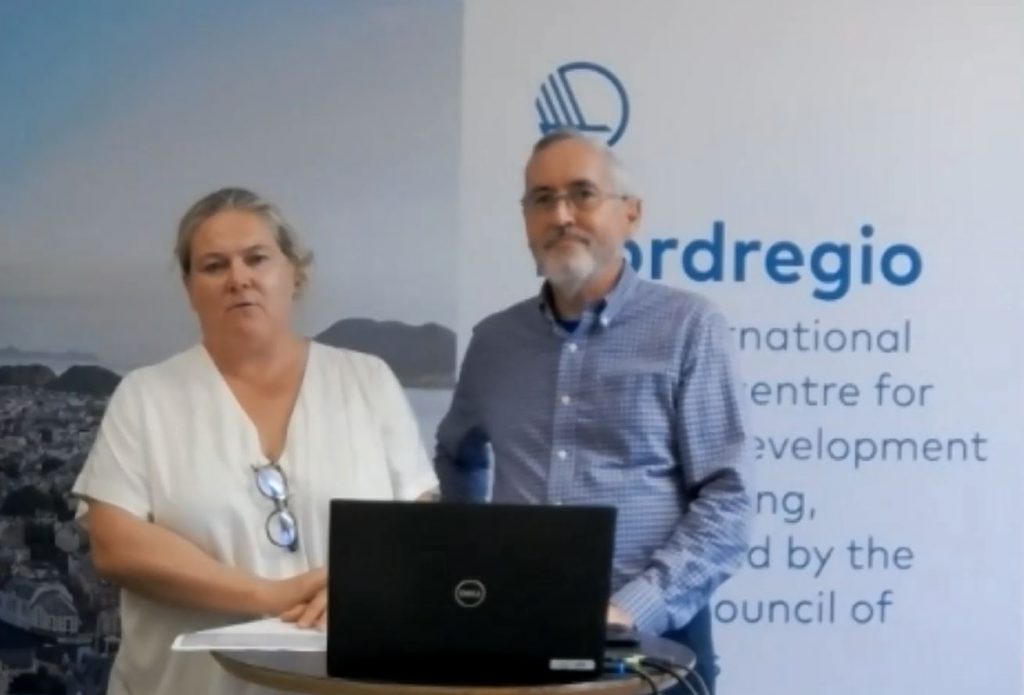 Anna Karlsdóttir, Timothy Heleniak and Marija Zelenkauskė (Nordregio) prepared and recorded a lecture for the 7th Korean Arctic Academy, organised by the Academy in collaboration with the Ministry of Oceans and Fisheries, Korea Maritime Institute and University of the Arctic (UArctic). It will be shared with 70 students and scholars from around the circumpolar Arctic on 20 August. The Academy programme contains a series of online lectures ranging from national Arctic policies, International Arctic governance, climate change and policies in the Arctic, legal issues of maritime governance to education, art and design just to mention few.
Our lecture focused on maritime communities and people in the Arctic as part of sustainable Arctic sessions. The lecture analysed population change, migration, and identity of Arctic populations. It shows the possible effects of permafrost thaw on populations and infrastructure in the Arctic. Also discussed are economic dynamics and business development, the Nordic Arctic cooperation programme, transformation, resilience and vulnerability, and the role of local decision making for change in Arctic communities, and discusses questions of inclusion of communities and people when researching the sustainability of communities in the Arctic. For us it was important to refer to the important work that is ongoing or has been conducted at Nordregio - The foresight analysis of the Nordic Arctic Working group, the Nordic Arctic Cooperation Programme, Cruise Tourism in the North, Nunataryuk, and Belmont Semper Arctic were among the projects highlighted.
The lecture was exclusively produced for the Academy. Anna has met with the programme director of the Academy at the Arctic Circle conference and as you know it is always good to extend networks. The former general secretary of the Nordic Council of Ministers said that trust is gold in the Nordic cooperation - we also mean that various relations are the gold in our work field.
---
The value of a narrative-centered approach for resilience in the Arctic (Conference Paper)
27 May 2021, Tanguy Sandré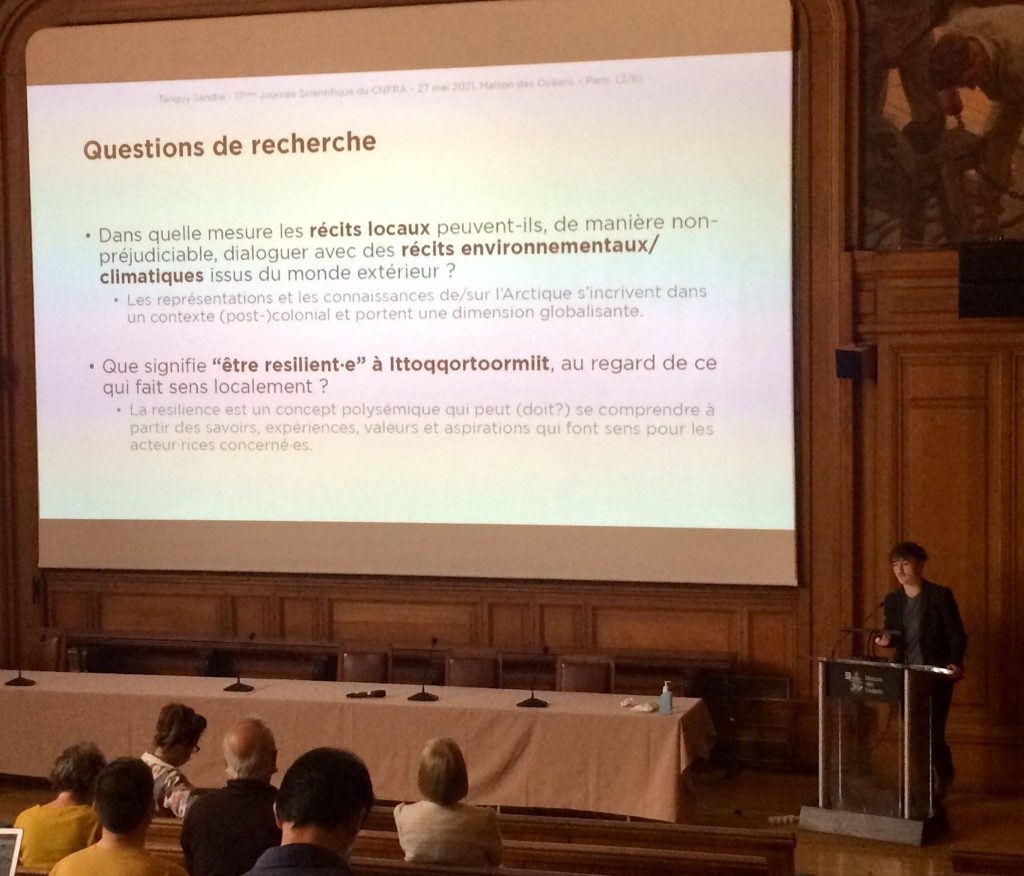 On the 27th May 2021, Tanguy Sandré took part in the Arctic panel of the interdisciplinary conference of the French Committee for Arctic and Antarctic Research (CNFRA) in Paris. The conference aimed to gather French research working in polar regions. Tanguy Sandré presented his doctoral project, carried out as part of the SeMPER-Arctic project, which focuses on understanding what it means to be resilient in the Arctic. In particular, he focused his speech on Ittoqqortoormiit, one of the three communities associated with the project. Conference paper and presentation are available online.
The concept of resilience, beyond its disciplinary fluidity and a polysemic dimension, needs to be articulated with the knowledge, experiences, values and aspirations that make sense locally. The presentation aims to argue that a narrative-centred approach allow to put the emphasis on these knowledges, experiences, values and aspirations, drawing on the shocks, changes and their aftermath that are constitutive of a localised definition of resilience. Taking place in Ittoqqortoormiit, East Greenland, the research - which is part of the SeMPER-Arctic project - aims to put these local narratives into dialogue with scientific narratives about the region. These plural narratives are not impermeable but are intertwined, competitive and/or hybridized in such a way that they affect communities agency and identity. The suggested approach simultaneously makes it possible to clarify the deployment of external concepts to improve their operational potential.
---
First stories collected thanks to our local partners
May 2021, Jean-Michel Huctin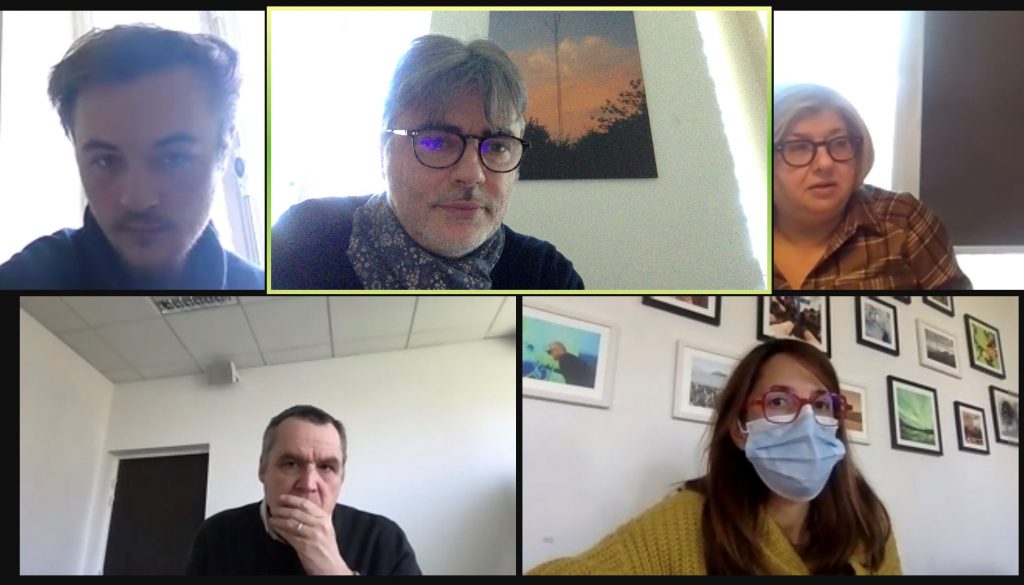 The health situation related to the COVID-19 pandemic makes it impossible to travel to Greenland, the researchers of the French team have been waiting for more than a year without being able to realize their first field trip. This is why they decided to experiment with a new way of collecting data remotely, thanks to local partners in Uummannaq and Ittoqqortoormiit. These partners have begun to conduct interviews with community members who agreed to tell the stories that have been important to them and that are of interest to the SeMPER-Arctic project. Ten interviews were collected in Uummannaq by Ann Andreasen, the director of the Uummannaq Polar Institute, with the help of Patrick Farnole, a doctoral student who has stayed there for a few months. In Ittoqortoormiit, our partner should be able to start doing this work in coordination with the researchers as soon as the interview collection procedure is well established. Regular online meetings are organized between researchers and partners on the two coasts.
Vaccination against covid-19 is underway on both the west and east coast of Greenland. As soon as it is possible to travel again without risk to local people and without a long quarantine for visitors, the researchers hope to be able to finally fly and sail to conduct fieldwork with their local partners.
---
An unusually bad ice season
28 April 2021, Patrick Farnole (PhD student)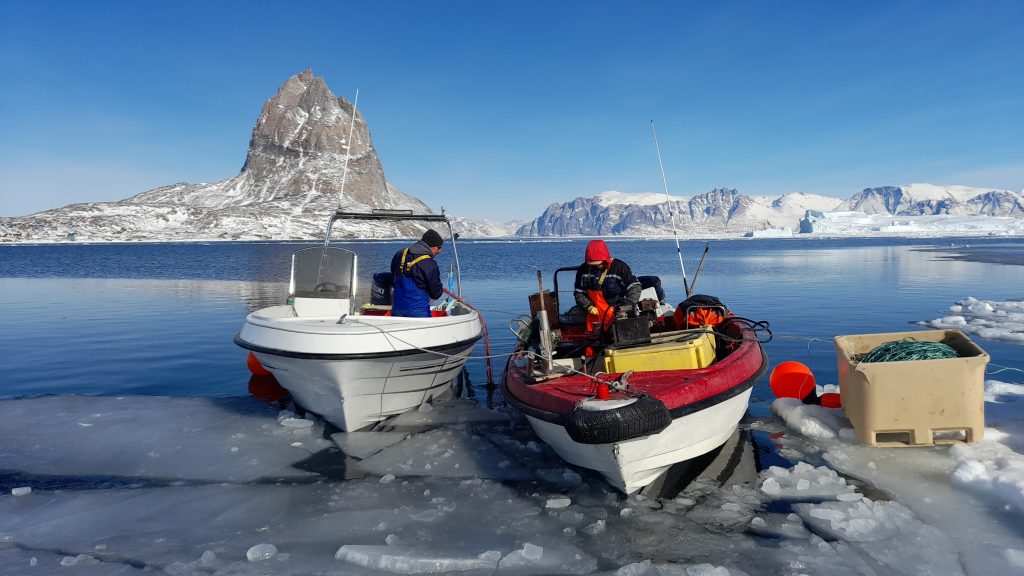 In Uummannaq, the ice has been regularly blown away during the season. Consistent ice around the island started in the end of February, but did not completely reach the village of Qaarsut 20 km away, and got weakened by strong winds throughout March, then April. Fishermen went out fishing on snowmobile over the ice for a total of a few weeks only, with lots of intermissions. The "ice highways" were briefly opened from Uummannaq to the villages of Saattut and Ikerasak, with some good and bad days. I did not see any car on the ice this year. I heard that a snowmobile went through the ice - fortunately, the driver was all right. People went out dog-sledding as often as they could. While the kids of the Children's home usually spend the season out on the sea ice with the hunters, this year they were able to go out fishing and dog-sledding only a couple of times.
About hunting: only a few narwhals were caught up until December, many more after mid-January since the ice was late and breaking, leaving large open water areas. Fishing continued by boat until the end of February, although strong winds made it impossible to go out for many days. In March and early April, fishing on the ice was going on whenever possible, however dangerous. In mid April, strong winds opened the water in front of Uummannaq. Some went fishing by boat on the edge of the sea ice (a few kilometers away). Some also transported their snowmobile and dogs by boat to the ice edge, to connect Uummannaq with the village of Ikerasak.
The season is over now. The snow is rapidly melting, and Uummannaq is once again mostly rock. Today, we can see open water all around the island, with scarce ice plates at the horizon, towards the end of the fjord. Overall it seemed like an unusually poor ice season for Uummannaq, but as always, people adapt!
---
The importance of current local representations for shaping futures for the Arctic
3 February 2021, Anne Bremer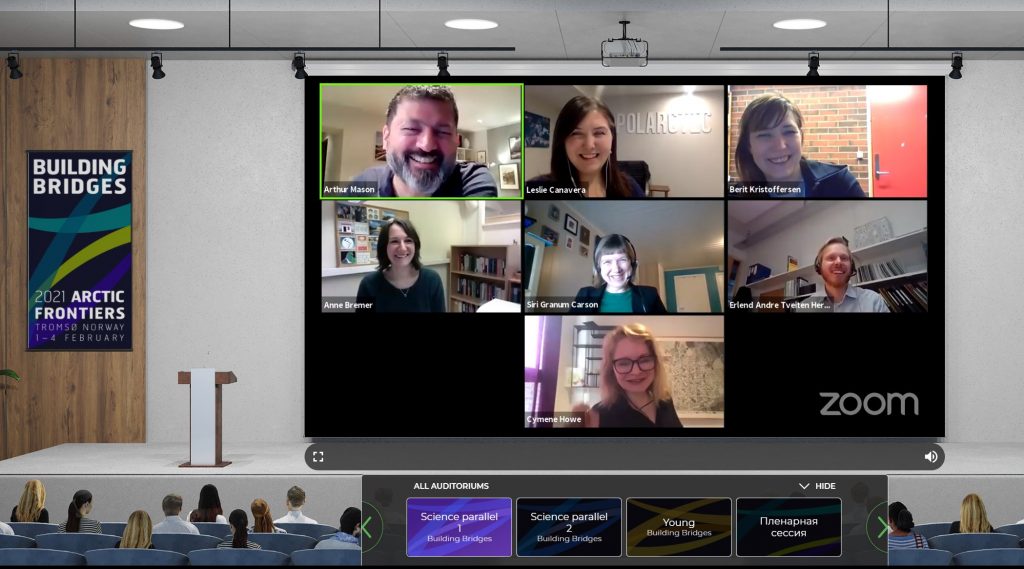 On the 3rd February 2021, Anne Bremer took part in the panel 'valuing the digital ocean' at the digital Arctic Frontiers conference. The panel was an opportunity to critically discuss the role of digital technologies in 'imagining' the Arctic, as it faces complex and far-reaching environmental, social, cultural and infrastructural changes.
Two topics came out strongly from the discussions. We first talked about the risks, uncertainties and acceptability of digital technologies like artificial intelligence to manage Arctic resources. Do local communities actually 'need' and/or want these technologies? What about issues of surveillance and data privacy/safety/security? And, probably the most salient open question: how do these technologies change local communities' landscapes, identities, and capacity for resilience? We also discussed the heightened conflicts of interests around resources in the Arctic, and the extreme difficulty to balance the voices of the different actors of the Arctic (e.g., corporate groups, scientists, local communities…), as we face immense power imbalances.
In that context, Anne introduced the SeMPER-Arctic project, and how the local, narrative-based understanding of what it is to be a resilient Arctic community in the 21st century, is key for shaping future visions for the Arctic that are congruent with, and respectful of, local representations, identities and needs. In particular, the dimensions of sense-making, place attachment and extended networks, on which SeMPER-Arctic places a special attention, are essential to understanding how local communities define resilience and come to represent the Arctic in their own particular ways. These local understandings are fundamental to avoid imposing dominant western paradigms in shaping the future of the Arctic.
---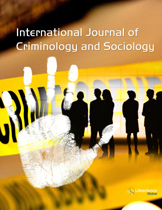 First SeMPER-Arctic paper published on Resilience of Arctic communities
31 December 2020, Tanguy Sandré
Investigating socio-economic features of settlements in the North-East of the Russian Arctic, a first scientific paper has been published by the SeMPER-Arctic consortium. This interdisciplinary paper was led by Inga V. Nikulkina, with SeMPER-Arctic colleagues Jeanne Gherardi, Arjan Wardekker and Marina E. Antonova.
This study was performed to further develop the concept of resilience and form a methodology for assessing the resilience of the economic and social system of an Arctic settlement to economic shocks. Full paper is available here.
---
SeMPER-Arctic student workshop in France
20 December 2020, Tanguy Sandré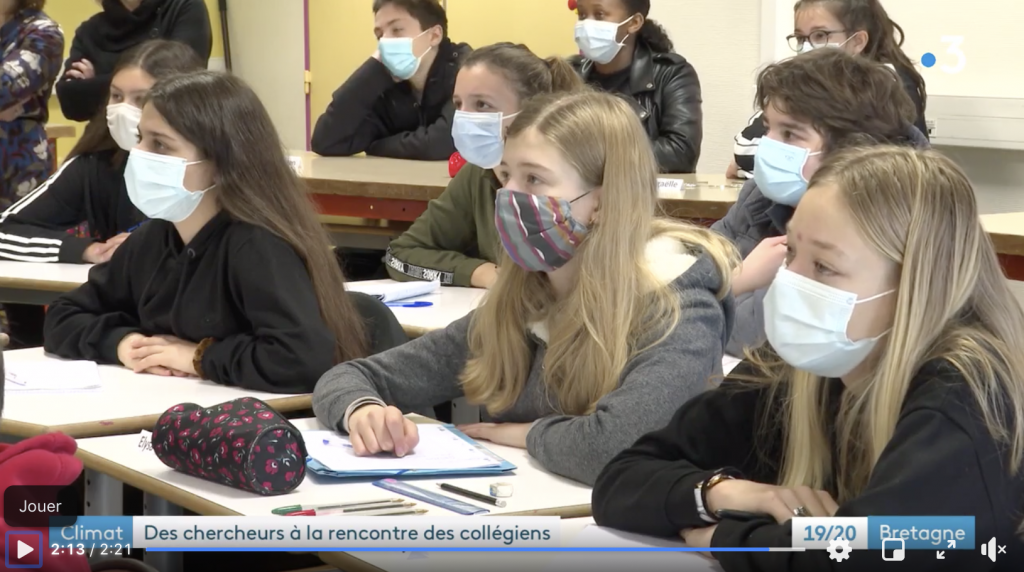 Thanks to our partner Greenlandia expedition, two SeMPER-Arctic researchers participated in a science workshop with students of the middle-school in Chartres-de-Bretagne, a city west of France. With a distant learning app, anthropologist Jean-Michel Huctin gave an overview of the Inuit world and culture, with a special focus on Greenland and the west coast community of Uummannaq where he conducted several research projects in the past years. He intends to continue his research there for SeMPER-Arctic when the pandemic risk is over.
The students were then ready to listen to environmental scientist Jean-Paul Vanderlinden who was able to join the meeting. He discussed with them the past and present impacts of climate change on people's life, especially in the East-Greenlandic town of Ittoqqortoormiit where he also plans to go back for a second SeMPER-Arctic fieldwork as soon as possible. A report on this researcher/student workshop was broadcasted by France 3, a national TV channel with regional programs. The class is expected this year to start writing to same-age students of the Ittoqqortoormiit school.
---
SeMPER-Arctic: First Monthly Meeting
16 December 2020, Tanguy Sandré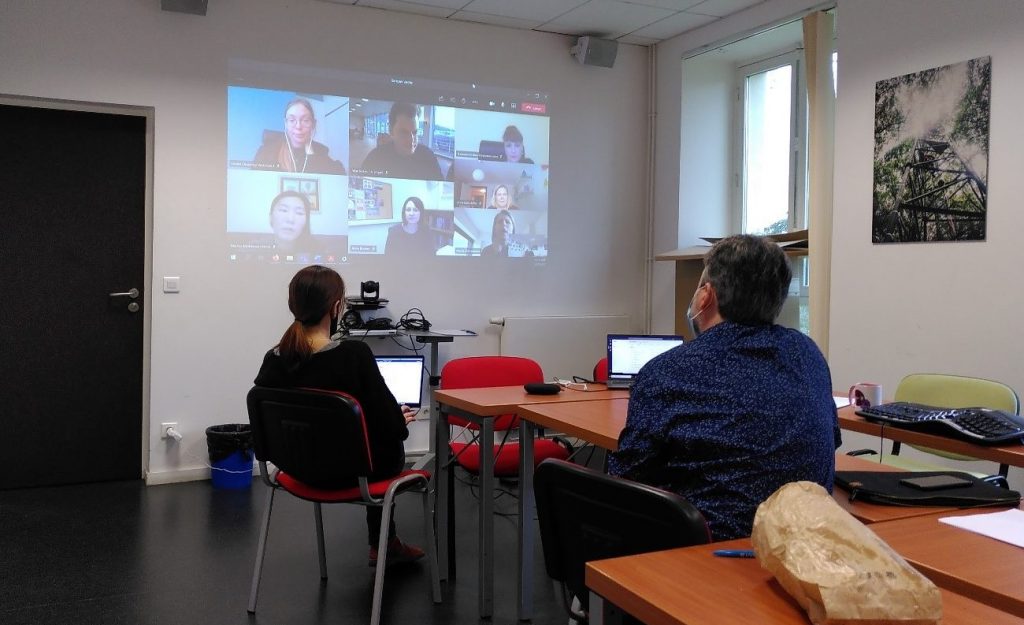 The consortium organized its first monthly meeting aiming to make an update on progresses and tame difficulties in a time pervaded of doom and gloom. While several fieldworks have been delayed from the beginning of the project, Russian partners reported on the first set of 25 interviews, conducted on a small window of lull, end October in Bykovsky and Tiksi (Republic of Sakha, Yakutia, Russia) (see the relative article). Along with this, discussions were oriented on methodological and reflexive questions that will be reckoned with the first deliverables in the coming weeks. Finally, the consortium tried to glimpse the upcoming steps; a first face-to-face workshop is expected to be hold in Paris early May.
---
First fieldwork for the SeMPER-Arctic consortium
26-30 October 2020, Tanguy Sandré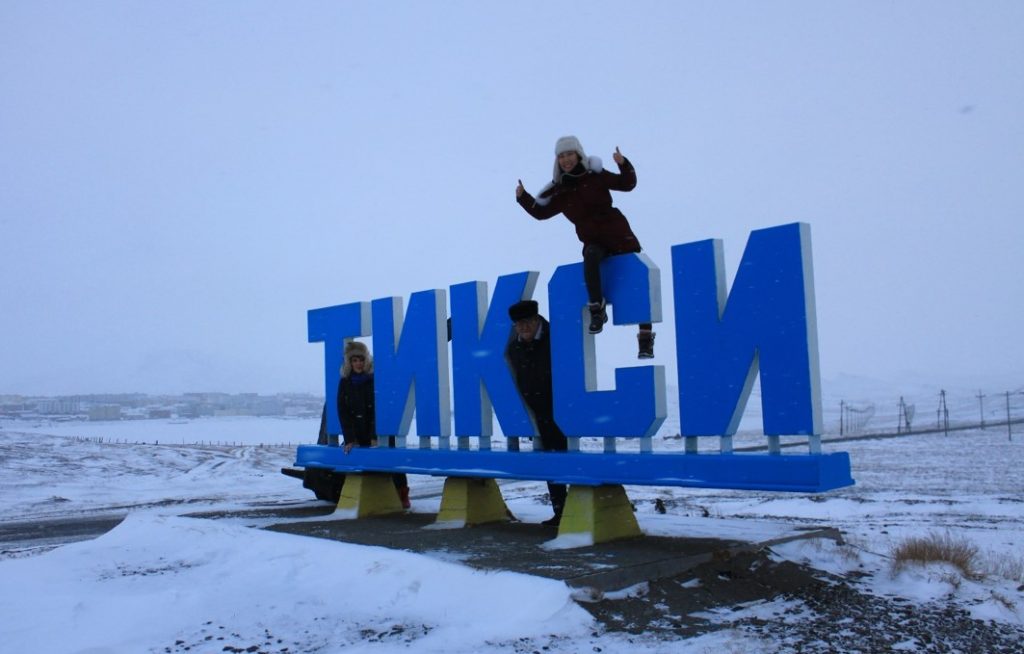 On a small window of lull, the Russian partners from the NEFU conducted the first fieldwork of the project. Conducted by Inga Nikulkina (economist), Viascheslav Shadrin (historian, anthropologist) and Marina Antonova (specialist in Arctic region, translator and interpreter)​ in Tiksi and Bykovsky, Bulunsky ulus, Republic of Sakha, Yakutia, Russia, the collection includes events (shocks in the framework of resilience analysis) that local communities/group of people/person had to overcome, and that changed usual life of people.
Over the fieldwork, 25 interviews have been conducted – 5 interviews were recorded in Bykovsky and 20 interviews in Tiksi. This was a crucial starting point for the interview collection package of the project as it has been a first application of the interview grid. Coming weeks will allow an in-depth analysis of the materials collected. In addition, to this impressive work, meetings have been held with officials, for instance the Head of Bulunsky district Igor Kudryashov and the Deputy Head of Bulunsky district Vladimir Miloslavsky.
---
Online kick-off meeting: launching of the SeMPER-Arctic project, 30 September 2020
30 September 2020, Tanguy Sandré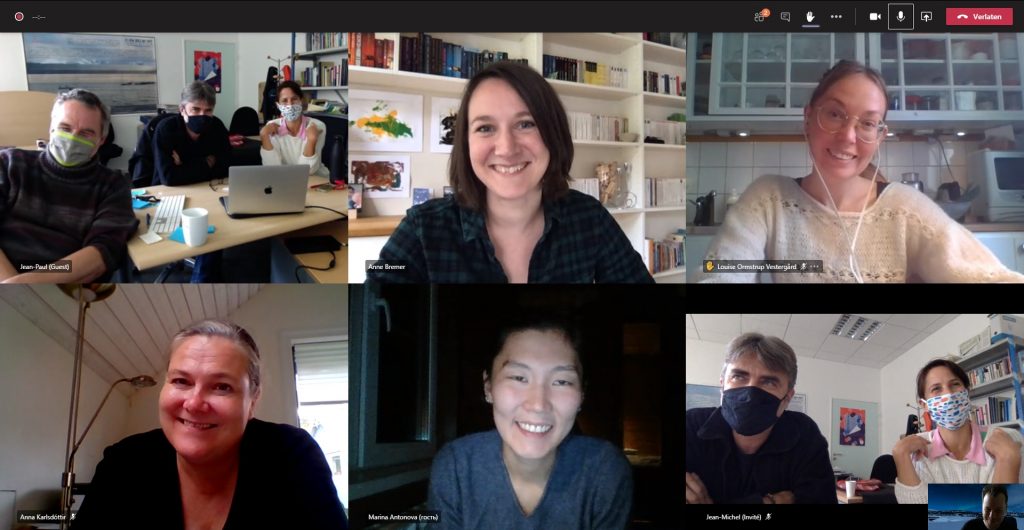 The 'Sense-Making, Place Attachment and Extended networks as sources of Resilience in the Arctic' (SeMPER-Arctic) project is starting up with an online workshop on narratives and Arctic community resilience. The SeMPER-Arctic team members will collect narratives among three Arctic communities – Tiksi (North Russia), Uummannaq (West Greenland) and Ittoqqortoormiit (East Greenland) – and adopt these narratives as local, and localized, anchoring devices for resilience analysis. The SeMPER-Arctic project includes institutions from five countries - France, Norway, Sweden, Russia and The Netherlands.